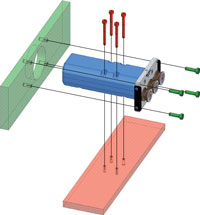 Universal Tension Sensor for yarns, fibers, thin wires etc.
10 Tension Ranges from 0-50 g to 0-50 kg
The TS2 tension sensor accurately measures the running tension of wires, cables, yarns, fibers, and similar process material. Built-in signal conditioning with ZERO and SPAN pots provide a high-level, analog output to minimize the chance of signal interference.
The TS2 can be used for process diagnostics, continuous monitoring, and recording running online tensions. It can also be used as part of a closed-loop control system with a 3rd-party controller.
Mounting possibilities: Sensor can be mounted on a flat plate using the supplied thru holes in the housing body or fixed using the holes in the front plate, inserted thru a round hole in a machine frame or plate.
Strain Gauge-based sensor provides accuracy of 1% Full Scale or better. Sensor can be mounted in any orientation depending upon the material path.
Built-in Signal Conditioner provides 0-1 V DC Analog Output with Integrated Zero & Gain Pots on rear-side of sensor allowing for convenient calibration by the end-user for highest accuracy
Optional output types include 0-10V DC, 4-20mA, RS-232, USB or WiFi
Ball-Bearing mounted, Hardcoat Anodized Aluminum V-grooved guide rollers standard. Hardened Steel, Ceramic and U-Grooved roller options available
Cast Aluminum Housing is rugged and proves for easy installation using thru holes in housing body or front plate
Can be used together with PD765 or SC-PM Digital Tension Indicator or with user-supplied electronics (requires 15-24 V DC regulated power).
3-Roller design insures that the center sensor rollers has the same wrap angle at all times which allows the sensor to be mounted in any position on the line
Outer roller spacing changes from 40 mm for ranges up to 1000g, to 100 mm for ranges up to 10Kg and 200 mm for ranges up to 50Kg.
Custom-designs are possible along with special features such as air fitting to create positive internal pressure in the housing for protection against airborne chemicals or contaminants
Model
Range
*Measuring
Head Width
**Calibration
Material
TS2-50
0 - 50 g
64 mm
PA: 0.12 mm
TS2-100
0 - 100 g
64 mm
PA: 0.12 mm
TS2-200
0 - 200 g
64 mm
PA: 0.12 mm
TS2-500
0 - 500 g
64 mm
PA: 0.20 mm
TS2-1K
0 - 1000 g
64 mm
PA: 0.30 mm
TS2-2K
0 - 2000 g
124 mm
PA: 0.50 mm
TS2-5K
0 - 5 Kg
124 mm
PA: 0.80 mm
TS2-10K
0 - 10 kg
124 mm
PA: 1.00 mm
TS2-20K
0 - 20 kg
224 mm
PA: 1.50 mm
TS2-50K
0 - 50 kg
224 mm
steel rope 1.50 mm
Other tensions ranges and measuring head widths available on request. * Outside dimensions of front plate
** Suitable for 95 % of applications
PA = Polyamide Monofi lament
V-Groove
Line Speed
Vmax...m/min
Roller Material
Standard
2000
Hardcoated aluminum
Code K
3500
Hardcoated aluminum
Code H
5000
Plasma-coated aluminium
(for model TS2-100 and higher ranges)
Code ST
1000
Hardened Steel
Code U
1000
U-Grooved, R=3mm
Code B
1000
Tempered steel,
specially for measuring tire cords
Code CE2
1000
Ceramic
Code ASY*
1000
Hardcoated aluminium,
asymetrical groove
Code ASYB*
1000
Tempered steel for tire cord,
asymetrical groove
* for TS2-500 and higher ranges with measuring head width 124 mm
| | |
| --- | --- |
| Standard | 0 - 1 V DC (analog) |
| Option | Code DC: 0 - 10 V DC |
| Option | Code MA: 4 - 20 mA |
| Option | Code 232: 200 Samples/Sec, max |
| Option | Code USB: 500 Samples/Sec, max |
| Option | WL: Wi-Fi |
Accuracy
± 1.5% Full Scale and 1 digit or better
Overload Protection
100% of tension range
Measuring Principle
Strain gauge bridge
Meas. Roller Defelction
0.5 mm, max
Output Signal
Standard: 0 - 1 V DC (analog)
Option DC: 0 - 10 V DC
Option MA: 4-20 mA
Option 232: RS-232
USB Output (Option "-USB)
USB Connection direct to Windows PC (requires TensionInspect Software, SW-TI3)
Supplied with 3 meter USB-A to USB-B Cable. If USB Cable longer than 5 meters is required, a USB Signal Booster is required.
Frequency Response
30Hz (custom frequency response up to 300 Hz available as an option)
Temperature Drift
Less than ± 0.1% Full Scale / °C
Temperature Range
10 - 45 °C
Air Humidity
85% RH, max
Power Required
+15 ... 24 V DC, 50 mA (regulated)
Housing Material
Aluminum
Weight net (gross)
Approx. 300 g (800 g)
Cable (optional)
Straight Connector with 2 meter cable length (6 ft) with open ends on far side (order p/n TS2-CABLE-2M). Other cable lengths and 90-Degree Connector available, INQUIRE.
Connection to PD765
SIGNAL:Grey (Sig+) to V+, Blue (Sig-) to COM
DC-POWER: White (Exc+) to P2+, Black/Brown (Exc-) to P2-
Thank You
Thank you for your quote request, we will contact you within 1-2 business days.
There was an error submiting the form. Please try again.