5 Tension Ranges
0-50 g up to 0-1000 g
TE-xx-22-PL
(with Delrin Plastic Rollers)
TE-xx-22-AL
(with Hardcoated Aluminum Rollers)
Lightweight 32mm diameter rollers minimize the deflection of the material path for fragile filaments or very low tension applications.
A built-in amplifier conditions the strain gauge signal, providing a 0–1 VDC output, minimizing the chance for signal interference.
Other important features include user-accessible calibration adjustment pots and gold-plated contacts on the connector.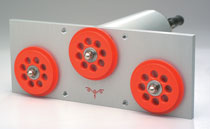 Plastic Delrin rollers can be supplied instead of the standard Hardcaoted Aluminum rollers when extra low weight is needed or when the material dictates an alternative roller material.
Lightweight 32mm diameter rollers are offered in Delrin Plastic (specify TE-xx-22-PL) or Harcoated Aluminum (specify TE-xx-22-AL)
Precision strain gauge sensing for highest accuracy and repeatability
Frequency response of 100 Hz
0-1 V DC output, proportional to tension (0-10 V DC optional)
Surface mount electronics provide long-term reliability
Optional 10ft. connecting cable, TE-CABLE-CN is recommended
| Model | Range |
| --- | --- |
| TE-50-22 | 0-50 g |
| TE-100-22 | 0-100 g |
| TE-200-22 | 0-200 g |
| TE-500-22 | 0-500 g |
| TE-1K-22 | 0-1000 g |
Note: Please specify Hardcoated Aluminum (AL) or Delrin Plastic (PL) Rollers.
Accuracy
± 1.5% FS or better
Sensor Excitation
+12 ... 24 V DC, max. 50 mA regulated
Middle Roller Deflection
0.5 mm (maximum)
Sensor Output
0-1 V DC (standard)
0-10 V DC (optional)
proportional to tension
Frequency Response
30Hz (custom frequency response up to 300 Hz available as an option)
Overload Protection
150% FS
Housing Material
Aluminum
Spacing of Outer Rollers
See Dimensional Drawing
Roller Diameter (Root)
32 mm
Roller Material
Plastic (standard)
Aluminum (optional)
Maximum Linear Speed
4000 m/min
Operating Temperature
40 to 105° F (5-40° C)