TSA750
- Vertical
TSA750H
- Horizontal
The lever operated Force Measurement Test Stand Model TSA750 is a perfect solution for quick-action pull testing and compression testing of up to 750 lb of tensile or compressive force. Made of rugged, machined aluminum components, this test stand is durable enough for the factory floor, yet precise enough for laboratory environments. The test stand includes adjustable travel stops and a frictional low force brake. Available in vertical and horizontal orientations.
Compatible with the following gauges, Series 5, Series 4, Series 3.
*Show with optional equipment. Force Gauge, Digital Display and Grips are sold separately
Optional Horizontal Configuration shown below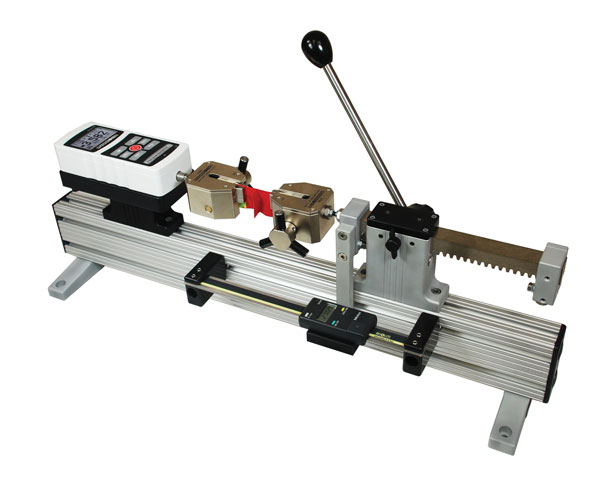 Precision ground rack and pinion mechanism
Threaded holes for bench mounting
Loading lever can be positioned in 30° increments for ease of operation
Adjustable travel stops
Adjustable wear plates for smooth, precise motion
Optional digital travel display
Friction brake
Optional Mounting Table Contains a matrix tapped holes for grip and fixture mounting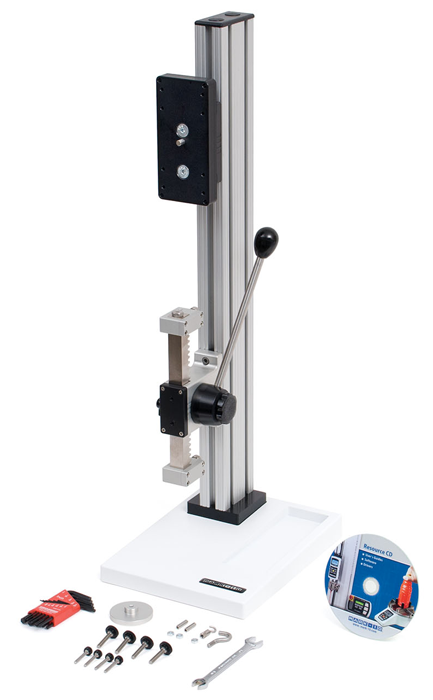 The TSA750 and TSA750H test stands are shipped as shown at left, and include the following accessories:
(1) G1028 small hook
(1) G1038 medium hook
(1) G1035 large hook
(1) G1042 extra large hook
(1) G1009 compression plate, 2" dia.
(2) #10-32 stud with jam nuts
(4) Thumb screw for force gauges with 0.12 - 500 lbF capacities
(4) Thumb screw for force gauges with 1,000 - 2,000 lbF capacities
(1) Allen wrench set
(1) Resource CD
(1) Base (TSA750)
(2) Mounting leg with hardware (TSA750H)
(1) Additional column cap with hardware (TSA750H)

Maximum force
750 lb / 375 Kg
Maximum travel, with stops
3.75" [95 mm]
Maximum travel, without stops
6" [152 mm]
Travel rate
3" [76.2 mm]/lever revolution
Weight
TSA750: 16 lb
TSA750H: 13 lb
Warranty
3 Years
Item
Description
Price

TSA750H

Horizontal Lever Test stand - 750 lb / 375 Kg

$1,073.50

Accessories

TSA001

Digital travel display for TSA750/TSA750H/TSB100, 6" / 150 mm

$745.00

TSA002

Horizontal/wall mounting kit for TSA750/TSB100/TSC1000

$170.00

TSA003

Mounting table kit for TSA750/TSA750H

$230.00

AC1004

Mounting kit, indicator/TT03 to Series TS stands

$95.00

AC1018

Mounting kit, R01/R03 to test stand (except ESM303, ESM303H, ESM1500, ESM1500S, ESM750S, and TSB100)

$115.00
1 Week Lead Time (Estimated)
2-3 Week Lead Time (Estimated)
Lead Time Varies, Please contact us for availability.