3 Models
DCF-3000FX
- Measures Coatings on Ferrous (steel, iron) Only
DCN-3000FX
- Measures Coatings on Non-Ferrous (non-magnetic metal) Only
DCFN-3000FX
- Combination Model, Measures Coatings on both Ferrous and Non-Ferrous metal
The Check-Line 3000FX Series coating thickness gauge is a powerful and precise coating thickness gauge designed for measurement of paint and non-magnetic coatings on steel and iron as well as paint and anodizing coatings on non-ferrous metals. All external probes are machined to ultra-high standards and utilize a unique, hard-metal probe tip which prevents probe wear.
A v-notched footer provides a stable footing on small cylindrical parts, which can be removed to expose a "micro-probe" sensor perfect to measure on small surfaces and parts.
Where to use 3000FX Series?
Wherever coatings are applied – whether on visual and aesthetic grounds, to prevent corrosion protection, or for functional and mechanical reasons – the coating thickness represents an essential quality feature. The 3000FX Series is ideal for speedy, non-destructive and exceptionally precise coating thickness measurement.
The 3000FX Series is a compact, lightweight coating thickness gauge for operators who require both innovative and user-friendly measuring techniques
The 3000FX Series ensures non-destructive coating thickness measurement on steel and non Ferrous metals
Data transfer to a printer or PC takes place via an infra-red interface
Up to 10 000 readings can be statistically evaluated: number of readings, mean value, standard deviation, minimum and maximum reading.
The 3000FX Series identifies the substrate and activates the appropriate measuring procedure.
Menu in a choice of three languages ensures ease of operation
The uniform contact pressure of the sensor is kept to a minimum, preventing scratches and indentations to sensitive surfaces.
Two optional high temperature footers for measuring on surfaces up to 150 °C/302 °F or up to 300 °C/572 °F
Traceable Certificate Included at no additional cost
2 Year Warranty
The 3000FX Series is supplied as a complete kit with gauge, ferrous and or non-ferrous zero plate(model dependent), 2 calibration standards, 2 AA batteries, hard carrying case, instruction manual and calibration certificate.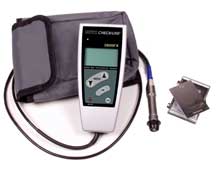 Minimum Radius for Convex Surfaces
0.12" (3 mm)
Minimum Radius for Concave Surfaces
0.2" (5 mm)
Minimum Headroom
4" (100 mm)
Minimum Sample Diameter
0.2" (5 mm)
Minimum Substrate Thickness - F
20 mils (0.5 mm)
Minimum Substrate Thickness - NFe
2 mils (50 um)
Mils
0.00 - 9.99 mils
0.01 mils
10.00 - 24.98 mils
0.02 mils
25.00 - 49.95 mils
0.05 mils
50.0 - 60.0 mils
0.1 mils
Microns (µm)
0.0 - 99.9 µm
0.1 µm
100.0 - 249.8 µm
0.2 µm
250.0 - 499.5 µm
0.5 µm
500 - 1500 µm
1 µm
Measuring principle:
Magnetic induction principle (Ferrous)
Eddy-current principle (Non-Ferrous)
Range
0 - 60.00 mils
0 - 1500 µm
Accuracy
±0.04 mils / 1µm + 1% of reading
Resolution
Refer to RESOLUTION TABLE, above
Display
back-light, 4-digit alphanumeric, digit height 10mm
Minimum Measuring Area
0.2" x 0.2" (5 mm x 5 mm)
Minimum Curvature Radius
convex: 0.12" (3 mm), concave: 0.2" (5 mm)
Minimum Substrate Thickness
Ferrous: 20 mils / 0.5 mm
Non-Ferrous: 2 mils / 50 µm
Calibration
factory calibration, zero calibration, foil calibration, offset-function: addition or subtraction of a constant value
Memory
80 readings
Statistics Program
Number of readings, mean value, standard deviation, maximum and minimum reading of max. 10,000 readings
Data Output
Infrared IrDA Standard
Operating Temp.
32 °F - 122 °F / 0 °C - 50 °C
Surface Temp.
5° F - 140° F / -15° C - 60° C (standard)
5° - 302° F / 15° - 150° C (w/3000-HTF)
5° - 572° F / 15° - 300° C (w/3000-HTF-300C)
Storage Temp.
-4 °F to 140 °F / -20 °C to +60 °C
Power
2 AA 1.5V
Dimensions
5.6" x 2.5" x 1.2" (140 mm x 62 mm x 30 mm)
Weight
7 oz (200 g) (gauge + probe)
Protection Class
IP 52 (proof against dust and dripping water)
Standards
DIN, ISO, ASTM, BS
Warranty
2 Years
Calibration Certificate
Included