The CAP-TA has been replaced by the CAP-TT01, click here to go to the CAP-TT01.

The CAP-TA Cap Torque Testers is a simple, accurate, and economical solution for manual cap torque testing. Ideal for lab or production use for closure manufacturers, bottlers, food and beverage companies, and others. The cap torque tester captures peak readings for application and removal torques.
Data output via RS-232 and Mitutoyo enable reporting and analysis of test data via PC or other data collector. Adjustable posts effectively grip a broad range of container shapes and sizes, while a set of flat rubber-edged jaws are available for unique profiles. Innovative mechanical overload protection provides peace of mind.
The CAP-TA cap torque tester features an aluminum housing, rugged construction and close attention to engineering you'd expect.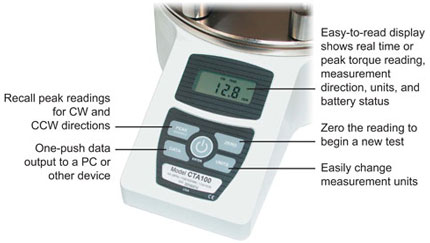 Measures in real time or peak torque modes
Data output via RS-232 and Mitutoyo
Selectable units of measurement
Accepts samples up to 7.5" (189.4 mm) dia.
Movable threaded sample gripping posts
Captures peak readings for application and removal torques
3 torque capacities available
Operates on a 9V battery or AC adapter
3 Year Warranty
MESUR™ Lite data acquisition software is included (Requires optional Serial Cable)
Supplier with NIST-Traceable Calibration Certificate
Model
Capacity
Resolution
CAP-TA-12
12 lb-in
140 kg-mm
135 N-cm
0.01 lb-in
0.1 kg-mm
0.1 N-cm
CAP-TA-50
50 lb-in
580 kg-mm
570 N-cm
0.05 lb-in
0.5 kg-mm
0.5 N-cm
CAP-TA-100
100 lb-in
1150 kg-mm
1150 N-cm
0.1 lb-in
1 kg-mm
1 N-cm
| | |
| --- | --- |
| Accuracy | ±0.5% of full scale ±1 digit |
| Safe overload | 150% of capacity |
| Weight | 6.5 lbs (2.9 kg) |
| Warranty | 3 years |
Item
Description
Price
Accessories

Calibration kit for CAP-TT01, CAP-T, and CAP-TA torque testers (weights not included)

$735.00

CAP-TA-JAWS

Flat gripping jaws, pair

$75.00

CAP-TA-CC

Carrying case for CAP-TA

$195.00

CT003

Set of Adjustable jaws for CAP-TT01

$375.00

MESUR gauge Load & Travel Analysis Software

$560.00

09-1048A

Cable, RS-232 9-Pin

$80.00

RSU100

Communication adapter, RS-232 to USB

$135.00

CAP-TA-PEGS

Set of 4 Spare / Replacement Pegs

$150.00

Mitutoyo SPC statistical processor/printer - Requires 09-1164

- Please contact us for pricing and availability.

$

09-1047

Cable, Mitutoyo SPC

$80.00
1 Week Lead Time (Estimated)
2-3 Week Lead Time (Estimated)
Lead Time Varies, Please contact us for availability.