The TT-IMP impact torque wrench test system is specially designed with extra-rugged construction for the demanding job of testing impact tools. The flange-mounted transducer is fixed in a heavy-duty frame designed for secure bench top mounting. A digital display is connected remotely to isolate the electronics from the damaging vibrations caused by impact tools. A specially designed spline drive run-down-fixture simulates real-world application conditions, allowing the impact tool motor to ramp-up to freely rotate several times before building resistance to rotation.
The included digital indicator can display torque in lb-ft, N-m, Lb-in or Kg-m (selectable) with an accuracy of +/-1% (bi-directional with optional reverse threaded run-down-fixture).
The TT-IMP is designed for use with impact and impulse tools only. It will not measure torque wrenches or reaction tools. The display included with the TT-IMP can be used with our IT Transducers to extend its capabilities.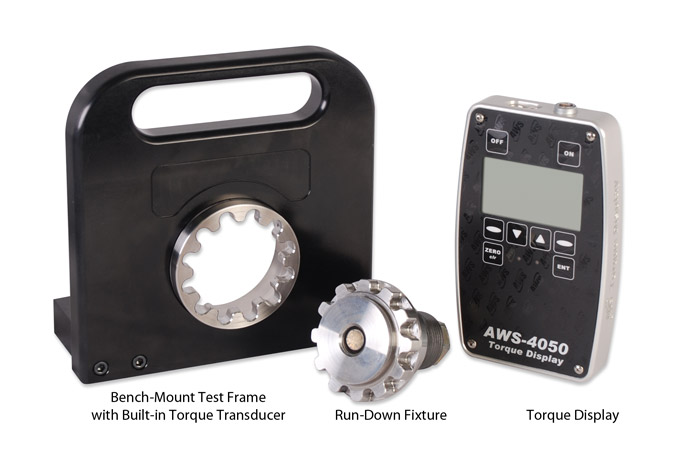 Counts Pulses / Blows while displaying peak torque
Heavy Duty Construction
Solid machined aluminum plate for weight reduction and long term durability
Spline engagement of rundown into torque transducer improves durability of transducer
Test stand is designed with feet to accomodate bolting test stand to bench
Supplied as a complete system with bench-mount transducer, run-down-fixture, display and connecting cable.
| Model | Calibrated Measuring Range |
| --- | --- |
| TT-410250F-IMP | 25 - 250 lb-ft / 34 - 340 Nm |
| TT-410500F-IMP | 50 - 500 lb-ft / 68 - 680 Nm |
| TT-4101000F-IMP | 100 - 1000 lb-ft / 135 - 1355 Nm |
| TT-4102000F-IMP | 200 - 2000 lb-ft / 270 - 2700 Nm |
| TT-4102500F-IMP | 250 - 2500 lb-ft / 340 - 3400 Nm |
| TT-4105000F-IMP | 500 - 5000 lb-ft / 680 - 6800 Nm |
Custom ranges available, inquire for details
Set filter on AWS-4050 Torque Display to 1000 Hz
Back off run-down between each test
Be aware of heat build-up, it breaks down the lubricant in the run-down fixture, increasing friction. Let the run-down cool after a few minutes of use (this will vary by torque range)
| | |
| --- | --- |
| Calibrated Range | 10-100% Full Scale, bi-directional (with optional reverse threaded run-down-fixture). |
| Accuracy | ±1.0% of indicated (within calibrated range) |
| Warranty | 1 Year |
| Calibration Certificate | Includes NIST Traceable calibration certificate with data |
| Operating Temp | 32 - 120 °F (0-50 °C) |
| Power | Rechargable NiMH batteries provide 10 -12 hours of continuous use |
| Weight | 10-20lbs depending on range |
| | Specifications below for Display |
| Operating Modes | Peak, 1st Peak, Track |
| Resolution | 4 Active Digits |
| Filtering | Selectable; 125Hz, 250Hz, 500Hz, 1000Hz, 1500Hz and 2000Hz |
| Memory | data storage of up to 999 readings |
| Data Output | RS-232 |
| Display | 62 x 62mm backlit LCD |
| Alarm Limits | LED for Visual Alarm Limits |