Universal Tension Sensor for yarns, fibers, thin wires etc.
5 Tension Ranges from 0-100 g to 0-1000 g
2 Alternative Material Paths
2 Alternative Roller Diameters
2 Supplied with V-Grooved Rollers
Can be supplied with 7 or 10mm Wide Ribbon Rollers, TSCB-Series
The new TSC Series is a purpose-built online tension sensor for continuous measurement of running line tensions of yarns, fibers, thin wires and similar process materials. The precision-machined housing is constructed allowing for installation of several sensors in close-proximity to one another when end-to-end spacing of the process material is limited. Multiple sensors can be mounted adjacent to another for fixed to a single rail for quick and easy mounting.. Built-in signal conditioning with ZERO and SPAN pots provide a high-level, analog output to minimize the chance for signal interference.
Can be using for process diagnostics, for continuously monitoring and recording of online tensions. The TSC Series Tension Sensor can also be used as part of a closed-loop control system with 3rd-Party controller.
Mounting possibilities: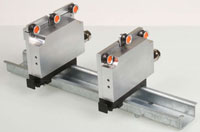 Sensor can be mounted on a flat plate using the supplied thru holes on the underside of the housing body or fixed on the optional rail allowing for quick, easy installation and allows for multiple sensors mounted adjacent to one another with minimal spacing.
Slim Sensor Housing allows for multiple sensors mounted adjacent to one another with minimal spacing
Strain Gauge-based sensor provides accuracy of 2% Full Scale or better. Sensor can be mounted in any orientation depending upon the material path.
Built-in Signal Conditioner provides 0-1 V DC Analog Output (0-10V or mv/V, optional) with Integrated Zero & Gain Pots on rear-side of sensor allowing for convenient calibration by the end-user for highest accuracy
Ball-Bearing mounted, Hardcoat Anodized Aluminum V-grooved guide rollers standard. Hardened Steel, Ceramic, flat cylindrical and U-Grooved roller options available
Can be used together with PD765 Digital Tension Indicator or with user-supplied electronics (requires 15-24 V DC regulated power).
3-Roller design insures that the center sensor rollers has the same wrap angle at all times which allows the sensor to be mounted in any position on the line
Sensor can be mounted on a flat plate using the supplied thru holes on the underside of the housing body or fixed on the optional rail allowing for quick, easy installation
Includes 2 meter (6 ft) length integrated cable with open ends for connection to Tension Indicator or user-supplied electronics
| Model | Range | Measuring Head Width* | Roller Diameter** |
| --- | --- | --- | --- |
| TSCA-ZD-100 | 0 - 100 g | 70 mm | 16 mm |
| TSCA-ZD-200 | 0 - 200 g | 70 mm | 16 mm |
| TSCA-ZD-500 | 0 - 500 g | 70 mm | 16 mm |
| TSCA-ZD-1000 | 0-1000 g | 70 mm | 16 mm |
| TSCA-ZF-100 | 0 - 100 g | 70 mm | 10 mm |
| TSCA-ZF-200 | 0 - 200 g | 70 mm | 10 mm |
| TSCA-ZF-500 | 0 - 500 g | 70 mm | 10 mm |
| TSCB-ZD-100 | 0 - 100 g | 70 mm | 16 mm |
| TSCB-ZD-200 | 0 - 200 g | 70 mm | 16 mm |
| TSCB-ZD-500 | 0 - 500 g | 70 mm | 16 mm |
| TSCB-ZD-1000 | 0 - 1000 g | 70 mm | 16 mm |
| TSCB-ZF-100 | 0 - 100 g | 70 mm | 10 mm |
| TSCB-ZF-200 | 0 - 200 g | 70 mm | 10 mm |
| TSCB-ZF-500 | 0 - 500 g | 70 mm | 10 mm |
cN units also available
* Outside dimensions of the housing
** Outside dimensions of the roller
V-Groove
Line Speed
Vmax...m/min
Roller Material
Standard "ZF"
900
Hard-coated aluminum
Code K "ZF"
2000
Hard-coated aluminum
Standard "ZD"
2000
Hard-coated aluminum
Code K "ZD"
3500
Hard-coated aluminum
Code H "ZD"
5000
Hard-coated aluminum
| | |
| --- | --- |
| Standard | 0 - 1 V DC (analog) |
| Option | Code DC: 0 - 10 V DC |
| Option | Code A10:Direct strain gauge output signal 2mV/V without amplifier |
Accuracy
±2% full scale and ±1 digit
Overload protection
100% of tension range
Measuring principle
Strain gauge bridge
Measuring roller deflection
max. 0.5 mm
Signal processing
analog
Output signal
Standard: 0-1 V DC (analog)
Option: 0-10 V DC (Option "DC") or 2mV/V Direct Strain Gauge Output (Option "A10")
Option "A10" Output
1 mV/V output, 5V DC power required (3-5V DC)
Cable
Shielded cable (2 m) with open ends
Damping (fg)
Standard (analog): 30 Hz
Temperature drift
better ± 0.05 % FS/ °C
Temperature range
10 - 45 °C
Air humidity
85 % RH, max.
Power supply
+ 15 ... 24 V DC, 21 mA (regulated);
Housing
Aluminium, with threaded mounting holes on underside (M3 Thread)
Housing dimensions
70 x 55 x 17 mm (L x W x H)
Weight, net
Approx. 100 g
Connection to PD765
SIGNAL: Yellow (Sig+) to V+, Green (Sig-) to COM
DC-POWER:White (Exc+) to P2+, Brown (Gnd) to P2-