The Check-Line MT-200 & MT-500 mechanical tachometers accurately measure rotational and surface speed.
The MT-200's & MT-500's rugged construction and portability make them an ideal choice for maintenance personnel, machine operators or others in a wide variety of machinery and material handling applications.
This analog tachometer does not require batteries which makes it a perfect tool for field service personnel.
MT-200 = Deumo S
MT-500 = Deumo 2
NSN #'s
MT-200 6680-01-643-2819
MT-500 6680-00-171-4584
Measures speeds from as low as 16 rpm up to 50,000 rpm (see model ranges)
Accuracy of ±0.5% of Full Scale
Rugged lightweight design for easy operation
Measures Feet Per Minute (FPM) with included surface speed wheel
Principle of operation: Eddy-Current Tachometer
NIST-Traceable Calibration Certificate is OPTIONAL
RED-colored hold button permits user to retain last reading until it can be conveniently viewed. It is released to clear reading
Measuring Ranges
MT-200
RPM: 16-200 / 160-2,000 / 1,600-20,000
FPM: 4.8-60 / 48-600 / 480-6,000
MT-500
RPM: 40-500 / 400-5,000 / 4,000-50,000
FPM: 12-150 / 120-1,500 / 1,200-15,000
Accuracy
±0.5% of Full Scale
Dimensions
3.3 x 6.1 x 1.8" (85 x 155 x 45 mm)
Weight
11 ozs
Housing Material
ABS Plastic
Warranty
1 year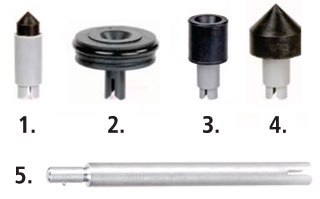 MT-HOLD-CONE - Spare Cone Tip
MT-WHEEL - Spare Surface Speed Wheel
MT-FOLLOWER - Spare Rubber Follower (funnel tip)
MT-LG-CONE - Spare Large Cone Tip
MT-EXT - Spare Shaft Extension
Item
Description
Price

MT-200-M

MT-200 Mechanical Hand-Held Tachometer, complete kit - DEUMO S (Meter/Min version)

$395.00

Accessories

MT-HOLD-CONE

Spare cone tip for MT tachometer

$10.00

MT-WHEEL

Spare surface speed wheel for MT tachometer - 29mm Diameter Ft/min version

$25.00

MT-WHEEL-32MM

Surface Speed Wheel for MT-Series Tachs (32mm Diameter) - Meter/min version

$25.00

MT-FOLLOWER

Spare Rubber Follower Cone

$15.00

MT-LG-CONE

Large Cone Tip for MT Tachometer

$10.00

MT-EXT

Shaft Extension for MT Tachometer

$10.00

MTCC

Plastic Carrying Case for MT-200/500 (w/o accessories)

$35.00

NISTCAL

NIST Traceable Calibration Certificate

$100.00
1 Week Lead Time (Estimated)
2-3 Week Lead Time (Estimated)
Lead Time Varies, Please contact us for availability.