The TSF Force Measurement Test Stand is ideal for spring testing, destructive testing, product integrity testing, and other applications requiring up to 1,000 lb (5,000 N) of push or pull force.
The stand features a large side mounted hand wheel requiring minimal user effort and a rigid 3" x 3" column. A removable steel loading surface with threaded holes for fixture and grip mounting adds flexibility for many testing applications, and a solid metal base contains a storage pocket and holes for bench mounting. Use the TSF with a M5-1000 digital force gauge to form a complete high capacity testing system.
*Show with optional equipment. Force Gauge, Digital Display and Grips are sold separately
Loading table with 25 #10-32 UNF holes for fixture mounting
Smooth hand wheel operation
Available in vertical and horizontal orientations.
Force gauges with data output include a USB cable, which can be connected directly to a PC. If the TSF001 digital travel display option is ordered and connection to a PC is desired, the following connection cables are required: Travel display (Mitutoyo) <=> 09-1066 cable, Mitutoyo <=> MRS100A converter, Mitutoyo to RS-232 <=> RSU100 converter, RS-232 to USB (optional)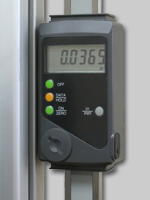 6" [150 mm] travel, 0.0005" [0.01 mm] resolution, SPC output for automated data collection. For output of travel data to a PC, the following items are required: 09-1066 cable and MRS100A communication adapter. Note: continuous data output rate is limited to 2 Hz.
Because load cell deflection and system deflection are present and not automatically compensated for, this equipment is recommended for applications requiring at least 0.2 in [5 mm] of travel distance.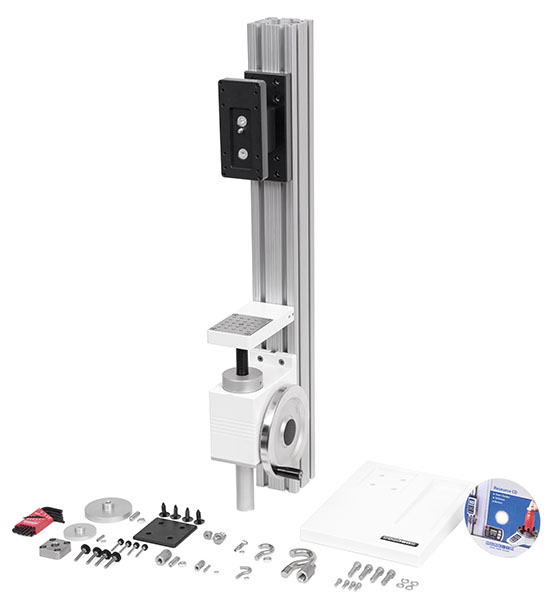 The TSF and TSFH test stands are shipped as shown at left, and include the following accessories:
(1) G1028 small hook
(1) G1038 medium hook
(1) G1035 large hook
(1) G1042 extra large hook
(1) G1009 compression plate, 2" dia.
(1) G1009-1 compression plate, 3" dia.
(2) #10-32 stud with jam nuts
(1) 1/2-20F adapter plate
(4) Thumb screw for force gauges with 0.12 - 500 lbF capacities
(4) Thumb screw for force gauges with 1,000 - 2,000 lbF capacities
(1) Allen wrench set
(1) Resource CD
(1) Base (TSF)
(2) Mounting leg with hardware (TSFH)
(1) Additional column cap with hardware (TSFH)
The TSF / TSFH is supplied with four hooks (small, medium, large, and extra large), 1/2-20F adapter plate, 2" and 3" compression plates, two couplers (#10-32 coupler and 5/16-18), and wrench set.
Item
Description
Price

Vertical Manual Hand-Wheel Test Stand, 1000 lb / 500 kg / 5000 N Capacity

$2,230.00

Horizontal Manual Hand-Wheel Test Stand, 1000 lb / 500 kg / 5000 N Capacity

$2,230.00

Accessories

TSF001

Digital travel display

$800.00

TSF002

Horiz. / wall mounting kit for TSF Series and TST Series stands

$215.00

AC1004

Mounting kit, Indicator to TS-Series test stands

$90.00

AC1018

Mounting kit, R01/R03 to test stand (except ESM303, ESM303H, ESM1500, ESM1500S, ESM750S, and TSB100)

$110.00
1 Week Lead Time (Estimated)
2-3 Week Lead Time (Estimated)
Lead Time Varies, Please contact us for availability.
Column extension - $125.00 base + $10.00 per inch