TSC1000
- Vertical
TSC1000H
- Horizontal
The TSC1000 Force Measurement Test Stand is ruggedly built for testing up to 1,000 lb of compression or tension force.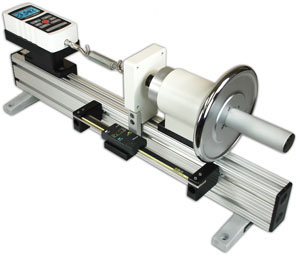 A large hand wheel requires little effort, even at high loads, and a precision Acme screw and nut ensure smooth operation over time. The stand includes a loading table with threaded holes for fixture or grip mounting and a solid metal base contains a storage pocket and holes for bench mounting. Available in vertical and horizontal orientations.
Compatible with the following gauges, Series-3, Series-4, Series-5 *Show with optional equipment. Force Gauge, Digital Display and Grips are sold separately
Mounting holes for bench mounting
Loading table with 25 #10-32 UNF holes for fixture mounting
Precision Acme screw and nut
Optional digital travel display
Force gauges with data output include a USB cable, which can be connected directly to a PC. If the TSC001 digital travel display option is ordered and connection to a PC is desired, the following connection cables are required: Travel display (Mitutoyo) <=> 09-1066 cable, Mitutoyo <=> MRS100A converter, Mitutoyo to RS-232 <=> RSU100 converter, RS-232 to USB (optional)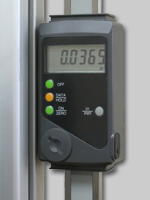 6" [150 mm] travel, 0.0005" [0.01 mm] resolution, SPC output for automated data collection. For output of travel data to a PC, the following items are required: 09-1066 cable and MRS100A communication adapter. Note: continuous data output rate is limited to 2 Hz.
Because load cell deflection and system deflection are present and not automatically compensated for, this equipment is recommended for applications requiring at least 0.2 in [5 mm] of travel distance.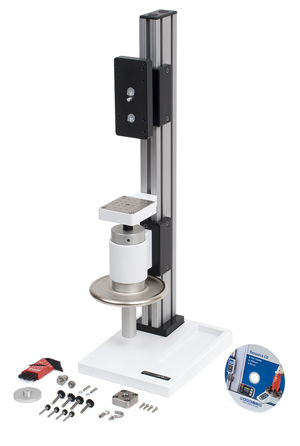 The TSC1000 and TSC1000H test stands are shipped as shown at left, and include the following accessories:
(1) G1028 small hook
(1) G1038 medium hook
(1) G1009 compression plate, 2" dia.
(1) G1030 thread adapter, 5/16-18M to #10-32F
(1) G1044 adapter plate
(1) Allen wrench set
(2) #10-32 M/M stud with jam nuts
(4) Thumb screw for force gauges with 0.12 - 500 lbF capacities
(4) Thumb screw for force gauges with 1,000 - 2,000 lbF capacities
(1) Resource CD
(1) Base (TSC1000)
(2) Mounting leg with hardware (TSC1000H)
(1) Additional column cap with hardware (TSC1000H)
Item
Description
Price

Test stand, hand wheel-operated, 1,000 lb, vertical

$1,450.00

Test stand, hand wheel-operated, 1,000 lb, horizontal

$1,450.00

Accessories

TSC001

Digital travel display, 6" [150 mm] travel, 0.0005" [0.01 mm] resolution

$700.00

TSC002

Horizontal/wall mount kit for TSA/TSC

$150.00

AC1004

Mounting kit, Indicator to TS-Series test stands

$90.00

Vertical Lever Test stand - 750 lb / 375 Kg

$1,045.00
1 Week Lead Time (Estimated)
2-3 Week Lead Time (Estimated)
Lead Time Varies, Please contact us for availability.
Column extension - $125.00 base + $10.00 per inch