Available Scales:
A, AO, B, C, D, DO, E, M, O, OO, OOO (Asker, ISO, DIN & JIS Scales also available, inquire)
The new Check-Line RX-DD is a precision Digital Durometer ideal for laboratory use. It features a large direct drive LCD display, RS232 data ports for computer compatibility, a locking feature to prevent accidental erasure of tolerances, automatic shutoff, low battery warning, and accessories such as MTI and SPC type printers, audio attachments and software.
Type M Durometers require test stand OS-3 per ASTM D2240.
Includes NIST-Traceable Calibration Certificate
High and low buttons for setting tolerance limits
One year warranty
Holds Peak reading until reset
0.1 Unit Resolution
Supplied in custom fit carrying case
Conforms to ASTM D-2240
Optional Removable Stainless Steel Barrel for Medical and Food Applications
Minimum Sample Thickness -Type A = 6 mm (1/4")
-Type M = 1.25 mm (0.050")

We offer a complete line of durometer test stands. The stand, when used in conjunction with a Durometer, eliminates operator error sometimes associated with hand-held durometer testing. Our stands feature a load weight for the proper testing pressure as noted in ASTM D2240, and a quick-lock column for easy adjustment.
Click here for more info on Durometer Test Stands.

The RX-DD is supplied as a complete kit including the durometer, 115V AC Adapter (230V AC Adapter is OPTIONAL), instruction manual and calibration certificate in a foam-fitted metal carrying case.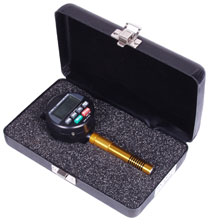 Measruing Range
0 - 100 Units
Resolution
0.1 Units
Accuracy*
±1 durometer unit (A,B,C,D,E,O,DO)
±2 durometer units (OO,OOO)
±4 durometer units (M)
Tolerance
± 0.5 at "100" and -0 +1 at "0"
Dimensions
2.25" x 6.125"
Weight
7.15 oz.
Power Supply
(2) 3V CR-2450 Batteries
115V AC Adapter Included. 230V AC Adapter Optional
Warranty
1 year
Mounting Thread
5/16-40
* Note
per ASTM D 2240-05, Sect 9.3: It is accepted that durometer readings below 20 or above 90 are not considered reliable. It is suggested that readings in these ranges be omitted.
DD-DB1 - "Smart" USB Cable
The DD-DB1 "Smart" USB cable connects the durometer to a computer. The output of the SmartCable Keyboard is a standard USB 2.0 keyboard signal. Connecting the SmartCable Keyboard with its built-in keyboard wedge to a computer will allow the SmartCable to be identified as a keyboard device that can send data to any Microsoft Windows application - no software wedge required. The SmartCable Keyboard will make the gauge readings appear as if they were typed in using a standard keyboard - eliminates data collection errors. If you want to collect data into a Microsoft Excel spreadsheet, simply select the cell where you want the data to appear.