Measuring Range in Steel
0.025 - 6.00 inches
0.60 - 150.0 mm
The new CHECK-LINE TI-25DL accurately measures wall thickness and the extent of corrosion of all metals, ceramics, glass and most rigid plastics - from only one side!
The TI-25DL incorporates a built-in memory for 1000 data points that can be separated into 10 separate "batches." The stored data can be downloaded to a serial printer or a personal computer. A Windows compatible data transfer program is supplied at no additional cost.



The gauge can be used in a Single Thickness Reading mode or in two alternative modes, the Scan mode and the and the Differential mode. The Scan modes permits the user to "drag" the probe over a large measuring area where the minimum thickness encountered during the scan will be displayed. The Differential mode displays the difference ("+" or "-") from a set "nominal" value
Resolution of 0.001" (0.01 mm)
Selectable units of inch or mm
Large, backlit LCD display retains last reading
RS-232C Serial output for downloading stored data to a printer or computer
Memory for 1000 data points in up to 10 batches
Special-purpose probes are offered for a variety of applications
Windows compatible data transfer program supplied at no additional cost.
CE Certified
Includes NIST-Traceable Calibration Certificate
Made in the USA
IP 65 Rated
Minimum Radius for Convex Surfaces
0.350" (8.89 mm)
Minimum Radius for Concave Surfaces
3" (76.2 mm)
Minimum Headroom
1" (25.0 mm)
Minimum Sample Diameter
0.150" (3.8 mm)
Minimum Substrate Thickness - F
na
Minimum Substrate Thickness - NFe
na
Range in Steel
0.025-6.00" (0.60-150.0 mm)
Resolution
.001" (0.01 mm)
Velocity Range
0.0492 to .3937 in/μs. 1250 to 10,000 meters/sec
Display
4½ - Digit, 0.5" Backlit LCD
Probe
7.5 MHz, 0.25" Diameter (6.35 mm)
Probe Wearface
PEEK (Polyethlethylketone)
Cable
4 ft. (1.2 m) waterproof cable with non-polarized, quick-disconnect connectors. Optional lengths up to 50 ft. (15 m).
Serial Output
RS-232C (8, N, 1, user-set baud rate)
Temp. Limits
Ambient: -20 to 120° F (-30 to 50° C)
Material: --ll0 to 200° F (-20 to 100° C
Special high temperature probes are optionally available.
Battery Type
Two AA batteries
Battery Life
200 hours
Weight
7 ounces (196 g)
Size
2.5 x 4.5 x 1.25"
(64 x 114 x 32mm)
Accessories Included
Probe/cable assembly. 4 oz. bottle of coupling fluid, NIST Calibration Certificate, 2 AA batteries, operating instructions, hard-plastic carrying case.
Warranty
Gauge: 5 Years
Probes: 90 Days
The TI-25DL is supplied as a complete kit with the gauge, probe, 4 oz. bottle of coupling fluid, 2 AA batteries, NIST-Traceable Calibration Certificate, data transfer software, RS-232 output cable, RS-232 to USB adapter and Operating Instruction Manual - all in a foam-fitted carrying case.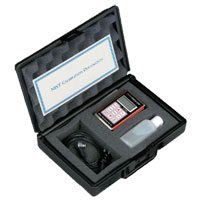 | | |
| --- | --- |
| Model | Description |
| TI-25DL-H | High Temperature for surfaces up to 650° F or 343° C |
| TI-25DL-107 | Cast Iron / Plastics |
| TI-25DL-HW | Heavy Wall (0.040-19.999") |