2 Models
DID-05
: Capacity: 4.500 lb-in / 50.00 N-cm
DID-4A
:Capacity: 35.00 lb-in / 400.0 N-cm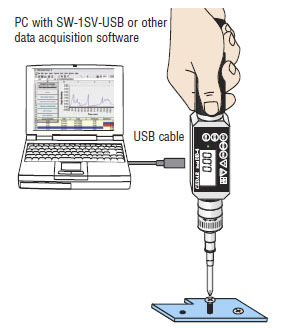 The DID is a torque measuring manual screwdriver designed for lab and production use. The large LCD display measures bi-directional torque in real-time or peak modes. USB data output allows the user to graph torque vs time with optional SW-1SD software.
The DID has an accuracy of ± 0.5% F.S., ±1 LSD and has programmable setpoints that provide both an audible beep and green/red LED indicator for uniform tightening or GO/NO GO testing. In addition, it features a programmable counter that minimizes assembly errors by identifying mis-tightening and/or defective screws. Optional ratcheting clutch allows for convenient tightening or loosening. Use the 800 internal memory for data recall or USB download for SPC.
The DID substantially reduces scrap and rework costs by eliminating over and under-tightening and is ideal for use in a wide variety of applications including the manufacture of electronic, appliance and aerospace assemblies.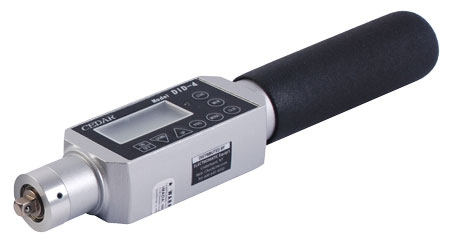 Includes 3-Point Certificate NIST Traceable Calibration Certificate, ISO-17025 Cert Optional
Peak, Real Time and Peak Down measuring mode (selectable)
Statistics: number of data, Max, Min, Avg
Programmable screw tightening counter
DID-4 uses standard 1/4" bits, DID-05 uses 4mm ROUND or Half ROUND bits.
Selectable units ozf-in, lbf-in, kgf-cm, N-cm and N-m
Runs on internal NiCad batteries (8 hour use) Auto shut-off after 10 min. of non-use
Programmable High and Low set points with both audible beep and Green/Red LED indicator for uniform torque tightening or GO/NO GO testing
USB virtual COM port sends peak (1 data) or continuous data (12 or 180 data/second)
800 data memory for recall or for SPC download
Programmable Auto Zero function resets unit to zero for easy operation
2 Phillips tips, AC charger included
2-Year Warranty
DID-05 features a built-in 1 way clutch
Model
Capacity
Resolution
DID-05
69.50 in-oz
4.500 in-lb
5.000 kg-cm
50.00 N-cm
0.01 in-oz
0.001 in-lb
0.001 Kg-cm
0.01 N-cm
DID-4A
560.0 in-oz
35.00 in-lb
40.00 kg-cm
400.0 N-cm
4.000 N-m
0.1 in-oz
0.01 in-lb
0.01 Kg-cm
0.1 N-cm
0.001 N-m
| | |
| --- | --- |
| Accuracy | +/- 0.5% F.S., +/- 1 LSD |
| Display | 4 digit LCD |
| Operation | CW, CCW and fixed position (DID-4 Only) |
| Measuring Modes | |
| PP | Peak Mode displays PEAK torque value that will not change until a higher value is measured |
| PD | Peak Down Mode Captures first peak down value above the PDLO |
| Real Time | Displays transient torque values |
| C | Real-time Output 180 data per second |
| GO/NO GO testing | Programmable High and Low setpoints with both audible beep and Green/Red LED indicator |
| Statistics | Number of data, maximum, minimum and average |
| Data Transfer | ASCII, 19200 bps, USB miniB cable |
| Data Memory | 800 data |
| Batch Counter | 1-99 (CW only) |
| Power Supply | Ni-Cad rechargeable batteries 1.2V×4cells 600mAh |
| Auto Power Save | Automatic switch off after 10 minutes of non-use |
| Charging Time | From empty - less than 5hours |
| Working Time | 12 hours continuous use |
| Accessories | AC/DC Adapter/Charger, 100~230VAC, 2 Phillips bits, NIST certificate |
| Warranty | 1 Year |
Item
Description
Price

DID-05

Digital Torque Screwdriver, 4.5 lb-in / 50 N-cm Capacity

$1,243.00

Accessories

Data Acquisition Software for DID Torque Screwdriver

$242.00

SS-209

USB Output Cable for DID and DIW torque tools

$30.00

RA2

Ratchet Clutch for use with DID-4A Torque Screwdriver

$59.40

TBK33

33 Piece 1/4" Hex Bit Set with drive extension, 6 Torx, 5 Hex bits, 8 Phillips, 8 Pozidrive, 5 slotted bits [Not for use with DID-05]

$20.00

6A-061WP12

Power Adapter for DID (formerly 3A-066WP12-120)

$60.50

DID-4-BATT

Replacement Battery for DID-4(A) Screwdriver

$82.50

DID-05-HM-25H

Drive Adapter for DID-05 4mm half-moon to 1/4" Female Hex

$99.00

CASE-SM

Small Hard Shell Carrying Case for DID Models

$40.00
1 Week Lead Time (Estimated)
2-3 Week Lead Time (Estimated)
Lead Time Varies, Please contact us for availability.