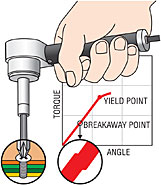 DI-12-SL motorized torque tester is designed to find the actual yield tightening torque value for specific thread joints which consist of a variety of thread types, multi-layered material, hole sizes, etc.
Torque controlled power tools are set to apply consistent torque, but fasteners are not necessarily tightened to that value if the tools are not calibrated. A breakaway test is used to verify the actual tightened torque of a bolt.
Breakaway torque tests require a skilled, experienced operator to sense when the bolt begins to breakaway. DI-12 automates this complex operation. Once breakaway torque is measured, power drivers can be reset to the proper tightening torque.
DI-12 Automatic Breakaway Torque Tester drives the test piece at consistent speed and detects breakaway torque without overtorquing pretightened fasteners
DI-12 outputs torque data continuously to data acquisition software via the USB virtual COM port, enabling the display of breakaway torque profiles
Includes NIST Traceable Calibration Certificate
Selectable units: lbf-in, kgf-cm, N-m. ozf-in units avaiable
Both CW and CCW operation
1/4" female hex
Peak, Real Time and Breakaway/Yield measuring modes (selectable)
USB virtual COM port sends peak (1 data) or continuous data (12 or 80 data/second)
Detects breakaway torque without overtorquing pretightened fasteners
Detects the yield torque of the screw joint
Displays real time torque values and captures peak torque
Tightens fasteners to preprogrammed torque values
Made in Japan
Model
Range
Approx. RPM
Recommended Thread Sizes

DI-12-SL4

4.8 - 560 ozf-in

0.3 - 35 lbf-in

0.34 - 40.3 kgf-cm

0.03 - 3.95 N-m

0.7
#6~#10 (M3~M5)

DI-12-SL15

48 - 2080 ozf-in

3 - 130 lbf-in

3.45 - 149 kgf-cm

0.33 - 14.6 N-m

0.7
#10~5/16" (M5~M8)
Display
4 digit LCD Display
Operation
Both CW and CCW motorized rotation
Accuracy
±1% F.S., 1LSD
Measurement Modes
P-P: Displays PEAK Torque value that will not change until a higher value is measured.
T-R: Displays TRANSIENT torque values.
RG: Determines peak down and yield torque (CW only)
If a peak down torque value is detected, the green indicator will light, and tester rotation will stop automatically.
Test Start Value
Start of RG Mode can be set in 0.001 N-m increments.
Output
USB (Virtual RS-232), continuous (9600 baud) output in PP and RG measuring modes.
Auto-power-off
After 5 minutes of non-use.
Dimensions
Detector: 44mm diameter x 190mm length, 1/4" hex drive
Indicator: 87mm W x 108mm D x 33mm H