2 Models
DTL-50i: 53 in-lb / 4.4 lb-ft / 6 N-m / 61 kg-cm
DTL-100i: 106 in-lb / 8.85 lb-ft / 12 N-m / 122.4 kg-cm
The new Check-Line DTL Digital Torque Wrench is designed for precise measurement and application of torque in industrial, automotive, aerospace and many other applications. Its small size and ratcheting head are ideal for use in areas with limited access. It measures and applies torque in both CW and CCW directions and displays in Real-Time or Peak Mode. Measurement units are user selectable (Lb-in, N-m, ft-lb or Kg-cm).
The DTL features a programmable target set point that indicates the desired torque value with a red and green LEDs and audible beep.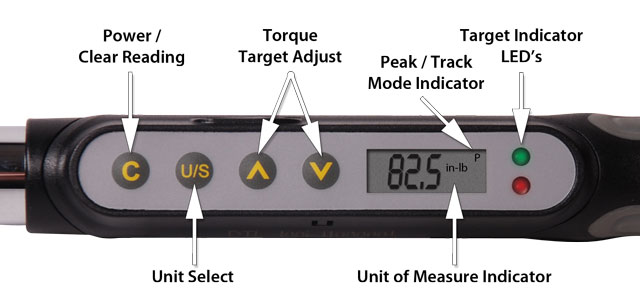 Displays in-lb, N-m, Kg-cm and ft-lb units (User selectable)
CW and CCW operation
Peak or Real-Time (track) mode (User Selectable)
Programmable Target Set-point with audible and LED indicators
At 90% of Target, Green LED illuminates with slow audible beep
At 100% of Target, Green & Red LEDs illuminate with continuous beep
Ratcheting Head
Includes Calibration Certificate (Click for sample)
CE Certified
Model
Measuring Range
Resolution
DTL-50i
2.6 - 53.1 Lb-in
0.3 - 6.00 Nm
0.22 - 4.4 Lb-ft
3. - 61 Kg-cm
0.01 Lb-in
0.001 Lb-ft
0.001 Nm
0.01 Kg-cm
DTL-100i
5.3 - 106.2 Lb-in
0.6 - 12.00 Nm
0.44 - 8.85 Lb-ft
6.1 - 122.4 Kg-cm
0.1 Lb-in
0.01 Lb-ft
0.01 Nm
0.1 Kg-cm
Accuracy: CW ±2% / CCW ±3% of indicated from 20 - 100% of capacity
Accuracy
CW ±2% / CCW ±3% of indicated from 20 - 100% of capacity
Operation Mode
Peak hold/ Track
Unit Selection
ft-lb, in-lb, N-m, Kg-cm
Dimensions
Length: 8.25" x 1" (210 x 25.4mm)
Head Dimensions
Width: 0.75 / 19.2mm at (widest location)
Height: 0.4" / 10.2mm (not including length of 1/4" drive which extends 0.31" / 8mm)
Head Type
Lever type Ratchet
Battery
1 AAA
Battery Life
12 Continuous Hours
1 Year Standby
Model Code in Manual
DME2-006CN, DME2-012CN
Operating Temperature
-10°C ~ 60°C
Zero Function
To zero the DTL-100i press the "C" key. The display will clear then it will return to the "target value" (preset)
Storage Temperature
-20°C ~ 70°C
Humidity
Up to 90% non-condensing
Warranty
1 Year
Item
Description
Price

Digital Torque Wrench, Capacity 53 lb-in / 6 Nm, 1/4 In Drive

$299.00

Digital Torque Wrench, Capacity 106 lb-in / 12 Nm, 1/4 In Drive

$299.00

Accessories

NISTCAL

NIST Traceable Calibration Certificate

$100.00

ISO-17025-TW

ISO-17025 Calibration Certification

$160.00
1 Week Lead Time (Estimated)
2-3 Week Lead Time (Estimated)
Lead Time Varies, Please contact us for availability.