2 Models
DTF-50
: Capacity: 53 in-lb / 4.4 lb-ft / 6 N-m / 61 kg-cm
DTF-100
: Capacity: 106 in-lb / 8.8 lb-ft / 12 N-m / 122 kg-cm
The new Check-Line DTF Low Profile Digital Torque Wrench is designed for precise measurement and application of torque in industrial, automotive, aerospace and many other applications. Its low profile design and 1/4" female hex drive with ratcheting head are ideal for use in areas with limited access. It measures and applies torque in both CW and CCW directions and displays in Real-Time or Peak Mode. Measurement units are user selectable (Lb-in, N-m, ft-lb or Kg-cm).
The DTF features 9 programmable target set points that indicates the desired torque value with a red and green LEDs and audible beep.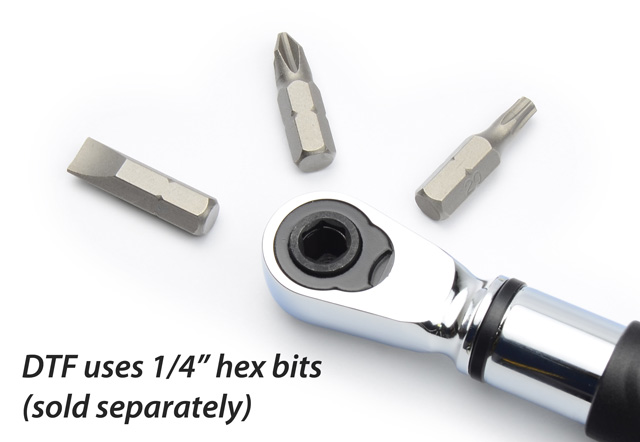 Includes Factory Calibration Certificate (Click for sample)
Displays in-lb, lb-ft, N-m, Kg-cm units (User selectable)
CW and CCW operation
Peak or Real-Time (track) mode (User Selectable)
9 Programmable Target Set-points with audible and LED indicators
At 90% of Target, Green LED illuminates with slow audible beep
At 100% of Target, Green & Red LEDs illuminate with continuous beep
CE Certified
Ratcheting Head
Model
Measuring Range
Resolution
DTF-50
2.65 - 53.09 lb-in
0.221 - 4.424 lb-ft
0.300 - 6.000 Nm
3.06 - 61.22 kg-cm
0.01 lb-in
0.001 lb-ft
0.001 Nm
0.01 kg-cm
DTF-100
5.3 - 106.2 lb-in
0.44 - 8.85 lb-ft
0.60 - 12.00 Nm
6.1 - 122.4 kg-cm
0.1 lb-in
0.01 lb-ft
0.01 Nm
0.1 kg-cm
Accuracy: CW ±2% / CCW ±3% of indicated from 20 - 100% of capacity
Accuracy
CW ±2% / CCW ±3% of indicated
from 20 - 100% of capacity
Operation Mode
Peak hold/ Track
Unit Selection
ft-lb, in-lb, N-m, Kg-cm
Head Dimensions
Width: 0.75 / 19.2mm at (widest location)
Height: 0.45" / 11.4mm
Length
8 inches / 20 mm
Head Type
Lever type Ratchet
Battery
1 AAA
Battery Life
12 Continuous Hours
1 Year Standby
Model Code in Manual
DME2-012CN
Operating Temperature
-10°C ~ 60°C
Storage Temperature
-20°C ~ 70°C
Humidity
Up to 90% non-condensing
Warranty
1 Year
Zero Function
Press the "C" key. The display will clear then it will return to the "target value" (preset)
Item
Description
Price

Digital Torque Wrench, Capacity 53 lb-in / 6 Nm, 1/4 In Female Hex Drive

$349.00

Digital Torque Wrench, Capacity 106 lb-in / 12 Nm, 1/4 In Female Hex Drive

$349.00

Accessories

NISTCAL

NIST Traceable Calibration Certificate

$100.00

ISO-17025-TW

ISO-17025 Calibration Certification

$160.00
1 Week Lead Time (Estimated)
2-3 Week Lead Time (Estimated)
Lead Time Varies, Please contact us for availability.