Available in 14 rated load ranges:
0 - 5N to 0 - 1000N The dual-axis radial force sensor offers two measuring axis, vertically to each other. Force introduction occurs radially at the bearing journal. Any acting force can be splitted vectorially into X- and Y-components. Fields of application:
- for research and industry
- acquisition of axle loads, bearing reactions and unbalances
- XY-force measurement on shafts and axles force measurement on pivot joints and crankshafts
- recording of polar force diagrams
The high mechanical stiffness of the load cell enables measurement with virtually no excursion. The specified and calibrated accuracy remains unchanged throughout the unit's service life and, across wide ranges, is independent of direct axial forces.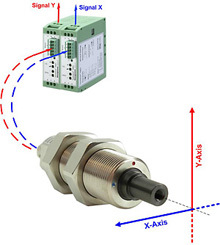 Both force signals get conditioned with a 2-channel measuring amplifier solution. Value and direction of the acting force are acquired. For analysis the data can be stored in the PC, e.g. with the software HCC-Easy. Its export function enables the user to transfer the data to further software for extended analysis, e.g. generating a XY-diagram.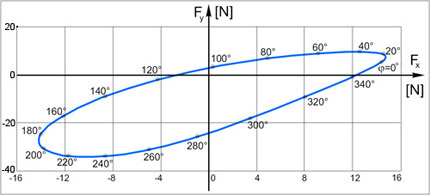 Example: Polar diagram of the force in a crankshaft, force components against angle of rotation
2 measuring axis, vertically to each other
independent of the force introduction point, i.e. the sensor is not affected by lever arm action
thought-through concept of housing for simple mounting
high overload protection
no influence of any axial tilt torques or direct axial forces which might appear
robust, stainless steel housing
Bearing Journal Diameter of 5 mm, 8 mm, 10 mm or 12 mm (refer to technical data sheet)
Thank You
Thank you for your quote request, we will contact you within 1-2 business days.
There was an error submiting the form. Please try again.