For use on Welding Wire Diameter Range of 0.032" - 0.120" (0.8 to 3.0mm)
The CDT-2000HD-TW accurately measures the linear feed speed of welding wire in feet, inches or meters per minute. A precision measuring head secures the wire and maintains contact against the measuring wheel for accurate measurements. Based on the award winning CDT-2000HD tachometer, the CDT-2000HD-TW also measure RPM via contact and non-contact methods.
A5-1279 - Rotaro-TW
Includes Traceable Calibration Certificate
For use on Welding Wire Diameter up to 0.120" / 3mm
Wire Speed can be measured in feet/min, meters/min or in/min (user selectable)
Total Length can be measured in feet, meters, inches.
Spring-loaded head and ball-bearing mounted contact roller eliminates slip and ensures accuracy
Designed and fabricated in Germany
Speed Range
0.30 - 6,500 feet/min
0.10 - 1,999 meters/min
4.0 - 78,000 inches/min
Resolution
.01 from 0 - 100
.1 from 100 - 1,000
1 from 1000 - 99,999
Measuring Ranges
Accuracy
± 0.02% of reading or 1 digit
Display
5 - Digit LCD, 10mm high
Decimal Point
Automatic
Memory System
Maximum, minimum, and last reading (retained in memory for the life of the batteries)
Measurement System
Non-Contact: Visible LED light beam
Contact: Contact adapter
Engineering Units
RPM: RPM
Surface Speed: Ft/min, inch/min & meters/min
Length: Feet, inches, meters
Sensing Distance
Up to 24 inches (60 cm)
Display Update Time
0.5 seconds or one measuring
Auto Power Off
After 30 seconds of non-use (minimum, maximum and last reading retained in memory)
Battery Life
40 hours continuous use
Battery
2 AA (1.5 V) or rechargeable
Weight
6 ounces (170 grams)
Housing Material
ABS Plastic housing with removable protective rubber shell
Housing Rating
IP40
Operating Temperature
32 to 122° F (0 to 50° C)
Storage Temperature
-4 to 150° F (-20 to 70° C)
Accessories included
Contact adapter, cone tip, universal surface speed wheel, reflective tape, operating instructions and foam-fitted, hard plastic carrying case
Optional Accessories
Shaft extension, 3.15 inches (80 mm)
Warranty
5 years
Calibration Certificate
Included
The CDT-2000HD-TW includes the Tachometer, Welding Wire Speed Adapter, Slide-In Tachometer Contact Adapter, 6" & .1m Surface Speed Wheels, Cone Tip, Funnel Tip, Extension Shaft, Reflective Tape, Two (2) AA Batteries (1.5 V), Calibration Certificate and Operating Instruction Manual -- all supplied in a foam-fitted, hard-plastic Carrying Case.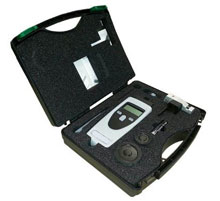 Item
Description
Price

Welding Wire Speed Meter / Combination Tachometer kit - A5-1279

$895.00

Accessories

ISO-17025-TS

ISO-17025 Certificate for Tachometer or Stroboscope

$225.00

BATT-RC4AA-WC

4-pack AA Ni-MH Rechargeable Batteries & Charger Kit

$35.00
1 Week Lead Time (Estimated)
2-3 Week Lead Time (Estimated)
Lead Time Varies, Please contact us for availability.