Flash Range: 30 - 300,000 FPM (5000Hz, max)
Flash Brightness: up to 3000 Lux (@ 6000 FPM)

Designed for maximum performance, portability and ease of use, the DS-2000LED-OT is a hand-held battery-powered LED Digital Stroboscope for use in speed measurement as well as for motion analysis. It is fitted with seven (7) state-of-the-art, super-bright LEDs mounted in a precision-machined aluminum head with optimized optics, providing the highest light output of similar strobes on the market. Produces up to 3000 Lux!

The DS-2000LED-OT can operate even at the highest flash rates for up to six hours continuously on a single set of three (3) standard "AA" batteries. Keypad controls adjust the flash rate in single increments as well as special keys for 2X and ÷2 functions. Other user-programmable settings include flash duration, phase shift, delay and much more.

Supplied in a high-impact plastic with rubber protective sleeve providing additional protection as well as improved grip for the operator. Lifetime LEDs do not wear-out or need replacement making this product ideal for use on the factory floor, in the field or in the laboratory. Applications include ideal for speed, motion and vibration analysis, on rotating shafts, fans, cams, hi-speed motion analysis for speakers or ink-jet printing and more.
NIST-Traceable Calibration Certificate provided
Produces the brightest flash and sharpest image over the entire range to 300,000 FPM
Lifetime LEDs do not wear-out or need replacement
Three (3) AA-Batteries provide six hours of continuous use operation
Market-leading 3000 Lux brightness (measured at 6000 fpm at a distance of 12")
Intuitive controls allow user to quickly adjust flash rate and shift phase
External Trigger Input/Output is optionally available. Specify model DS-2000LED-OT
User-selected units of Hz or FPM (Flashes Per Minute)
IP 65 rated housing provides protection from water jets
Made in Germany
2-Year warranty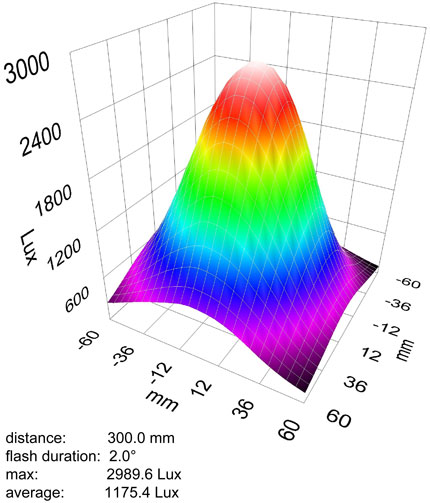 at 12"/30 cm Distance, 6000 flashes/min (FPM)
Frequency Range
30 - 300,000 FPM (0.5 - 5000Hz)
Flash Duration
Adjustable (1 usec up to 8522 usec)
Accuracy
± 0.02% ± 500ns
Resolution
± 0.1 FPM (30 - 999) ± 1 FPM 1000+
Brightness
3000 Lux @ 6000 FPM / 30cm (12 inch)
Protection Class
IP65 (Protection from Dust and Water Jets)
Display
LCD, multiple lines
Certification
CE (as per EU norms)
Flash Color
Approx. 6.500 K
Power Supply
3x AA size batteries or 3x NiMH rechargeable batteries
Housing Material
Aluminum / ABS Heavy duty design
Dimensions
191 x 82 x 60 mm / 7.5 x 3.2 x 2.4 inch
Weight Approx
400g (including batteries)
Temperature Range
0° - 45° C / 32° - 113° F
Battery Life
NiMH: approx 11h at 6.000 FPM
Disposable: approx 6 h at 6.000 FPM
Warranty
2 Years
Trigger Input
3 - 32 V, NPN + PNP
Low Level: < 1 V
Principle: Optocoupler, voltage-free
Trigger Output
Level: max. NPR, max 32V
Pulse Length: Adjustable
Maximum current: 50mA
Reverse voltage protection: Yes
Principle: Short-circuit and overvoltage proff transistor output to the optocoupler control, non-isolated
Default Settings
FPM 1000, Hz 16.6, PULSE µs 333, PULSE deg 2°, DELAY ms 0.0, PHASE deg 0°, DIVIDER 1, OPTION 0
Item
Description
Price

LED Stroboscope Complete Kit with external trigger input/output in carrying case

$895.00

Pocket Laser LED Stroboscope Kit with Laser Tach Mode & Auto-Sync Function - external trigger input/output

$995.00

Accessories

BATT-RC4AA-WC

4-pack AA Ni-MH Rechargeable Batteries & Charger Kit

$35.00

DS-2000LED-TPM

Screw-on Tripod Mount for DS-2000LED [N0001.618]

$45.00

Tripod for Tachometers and Stroboscopes

$35.00
1 Week Lead Time (Estimated)
2-3 Week Lead Time (Estimated)
Lead Time Varies, Please contact us for availability.