Flash range of 30 - 300,000 fpm (0.5-5000 Hz)
The Checkline QB-LED is a hand-held, battery-powered stroboscope featuring forty (40) extremely bright LEDs for the highest light output in its class. Designed for machinery observation, visual inspection and motion analysis, its robust design is suitable for use in the toughest industrial environments.
The QB-LED features a robust aluminium housing fitted with forty long-life, high-performance LEDs providing a peak brightness of 5000 Lux and convenient adjustment of flash duration to easily select the optimal balance of brightness and image sharpness. A built-in Lithium-Ion battery provides up to seven hours of continuous use on a single charge. It is supplied with a universal battery charger (100-240VAC) with USA, Euro and UK plug adapters.
The strobe is extremely easy-to-use, as functions such as flash rate and brightness adjustments are separated from the special functions that are found a separate menu. The special functions include phase shift, internal/external trigger selection, flash delay, divider and "Slow Motion" mode. "Slow Motion" Mode allows the user to offset the flash rate to put the "frozen" image into virtual "slow-motion".
The QB-LED uses the "strobe effect" whereby when the flash rate is equal to the rotational speed, the target will appear "frozen". Typical applications include; motion and vibration analysis, balancing of rotating shafts, fans, cams, high-speed motion analysis of speakers or ink-jet printing and more. Ideal for use in the textile, paper making, sheet metal production, automotive and printing industries.
Traceable Calibration Certificate included
40 High Power LEDs produce 5000 Lux Peak Brightness
Flash range of 30 - 300,000 fpm (0.5-5000 Hz) with user-selected units of Hz or FPM (Flashes Per Minute)
Selectable units of "FPM, "Hz" or "1/MIN"
Backlit LCD Display for optimum viewing in all lighting conditions
"Slow Motion" Mode allows user to offset the flash rate to put the "frozen" image into "slow-motion" (External Trigger Mode only)
"PRO Mode" provides additonal functions including Multiplier, Delay and Memory (5 User-set Values)
Additional features include "Phase Shift" and Internal/External Trigger
Built-In Litium-Ion battery provides up to seven hours of continuous operation on a single charge. Battery status is shown on LCD display
Adjustable flash duration allows for optimal tuning of brightness and image sharpness for every application
Supplied with universal AC battery charger. Can also be used to continuously power the QB-LED for fixed-mounted use
Threaded mounting holes for fixed mount applications
Rugged, lightweight aluminum housing with an ergonomic handle, convenient operator controls and backlit LCD display
Made in Germany
CE Certified with 1-Year Warranty
The QB-LED is supplied as a complete kit including the strobe, removable handle, universal AC adapter with USA, EURO and UK plugs, DIN Connector (for use when externally triggering from sensor), traceable calibration certificate and instruction manual with Quick-Start Guide -- all supplied in a foam-fitted plastic carrying case.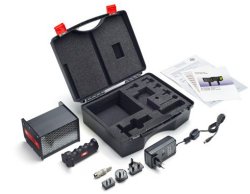 Number of LEDs
40 in a 5 x 8 array
Flash Range
30 - 300,000 FPM (0.5 - 5000Hz)
Flash Duration
Adjustable (1 usec up to 2000 usec)
Accuracy
± 0.02% (± 1-digit/±0.025usec)
Resolution
± 0.1 FPM (30 - 999)
± 1 FPM (1000 - 9999)
± 10 FPM (10,000-300,000)
Brightness
5000 Lux @ 6000 FPM / 30cm (12 inch) - and 3° Sharpness
Display
LCD, multiple lines
Certification
CE (as per EU norms)
Flash Color
Approx. 5,000 - 8000 K
Power
Built-In Lithium-Ion rechargeable battery, 3100 mAh
Housing Material
Aluminum
Dimensions
150 x 130 x 112 mm / 6 x 5.1 x 4.4 inch
Weight
1 Kg (2.2 Lbs)
Temperature Range
0° - 40° C / 32° - 104° F
Battery Life
approx 7 hours at (@875 Lux)
approx 4 hours at 2000 Lux
ReCharging Time
5-6 hours
Housing Protection
IP30
Mounting Holes
1x 1/4"-20UNC (in center)
2x M5 Threaded Holes (60 mm c:c)
Trigger Input Signal
3...30 V / max. 5 mA (Isolated optocoupler)
DIN 41524 5-pin standard plug
Uout = 24V DC, 60 mA
switchable trigger input
Trigger Output
not available
Warranty
1 Year
Default Settings
FREQUENCY=1000 FPM, BRIGHT=1°/166usec, PHASE=0, TRIGGER=INT, Display Units=FPM, Miltiplier=x1, Bright Units=deg, Delay=0msec, Divider=1, Slow=0, Trigger=0(rising)
Item
Description
Price

Portable, Battery Powered LED Stroboscope Complete Kit

$995.00

Accessories

Rubber Edge Protectors for LS-3-LED, QB-LED & QBS-LED

$65.00

QB-BAT

Rechargeable Lithium-Ion Battery Pack for QB-LED & QBS-LED

$125.00

Replacement Universal AC-Adapter/Charger (100-240 VAC)

$80.00

Screw-On Handle for LS-3-LED, QB-LED & QBS-LED

$25.00
1 Week Lead Time (Estimated)
2-3 Week Lead Time (Estimated)
Lead Time Varies, Please contact us for availability.