The new LS-9-LED is a high-performance stationary LED-stroboscope with powerful light output and uniform light distribution over a large area for use on web-widths up to 500mm (20 inches) and wider.
High light output
Due to the use of 120 of the industry's latest high-performance LEDs, the LS-9-LED offers a powerful light intensity. The large, homogenous illumination surface delivers superb results even at difficult light conditions, making the LS-9-LED suitable for a very wide range of measurement, observation and inspection functions. It is especially suitable for demanding applications, such as those in the printing industry.
Superb image sharpness
With an adjustable flash duration from1-1000 μ seconds, you will easily find the best combination of light intensity and sharp images for every application.
Flexible adjustments to all applications
Alternatively, the stroboscope can be controlled directly by the trigger signal of your system without the need for additional control units or by various RT STROBE control devices. When using these trigger options simultaneously, you can easily alternate between the signal inputs by using the switch on the reverse side of the device.
Additional control options
LS-5-FCM - a simple and inexpensive unit for controlling flash frequency. You simply insert this small control unit into one of the sockets on the reverse side of the device.
LS-5-RCU - for adjusting the flash frequency, phase shift, delay time and trigger divider. This unit is connected to the stroboscope by cable and provides the convenience of remote control even if the stroboscope within your machine is difficult to access.
LEDs provide lifetime use and never require replacement
Extremely bright and uniform light distribution over an area of 300 x 500mm (12" x 20")
Uses 120 of the newest generation LEDs in a 15 x 8 array providing 7500 Lux, peak
For web widths > 500 mm (20"), Two (2) or more strobes can be connected in parallel
Requires 24V DC Power (Not Included), An optional power adapter is available.
Connection include two (2) trigger inputs and 1 trigger output. Power can be connected in either of these 3 locations
Adjustable brightness and image sharpness permits operator to optimize strobe for each application

We offer a special configuration of the LS-9-LED Linear Stroboscope packaged in 440 mm width housing (17.3 inches) designed to provide a more aesthetically-pleasing solution when the strobe is fixed-mounted on a machine frame that is 18 inches or wider (460 mm+).

The 120 LEDs are spread in three (3) separate "clusters" each containing 40 LEDs, arranged in a 5x8 array. The position of each "cluster" is optimized to provide the optimal light uniformity over the entire illumination area with the same effective brightness as the standard version of the LS-9-LED (7500 Lux, peak). This model is popular with OEM Machine Manufacturers of Slitter/Rewinders and similar machines used in the label and printing industries.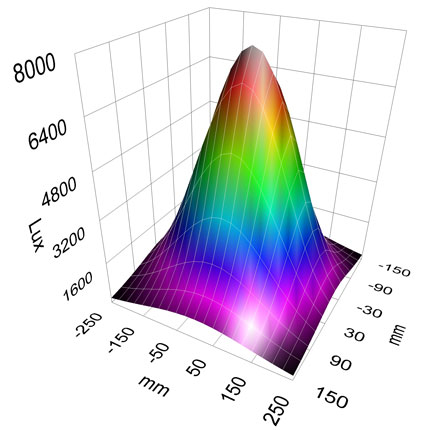 Model
LEDs
Array Size
Brightness (peak)
Housing Width
LS-3-LED
40
10 x 4
5000 Lux
150 mm
(6 inch)
LS-5-LED
80
10 x 8
6000 Lux
150 mm
(6 inch)
LS-9-LED
120
15 x 8
7500 Lux
230 mm
(9 inch)
LS-9-LED-WB
120
5 x 8 (3x)
7500 Lux
440 mm
(17 inch)
LS-18-LED
200
25 x 8
9000 Lux
440 mm
(17 inch)
LS-36-LED
480
60 x 8
14000 Lux
948 mm
(37 inch)
Frequency Range
0...120000 FPM (flashes per minute)
Power Required
24V DC (21.6….26.4VDC) / 0.6A (19.2 Watts)
Universal AC power supply sold separately, pn LS-AC-WORLD
External Trigger Input
3...30 V / max. 5 mA
Potential-free optocoupler
DIN 41524 5-pin standard plug
Uout = Uin, max. 200 mA
switchable trigger input
Trigger Output
for connection to 2nd Strobe (Slave)
Illumination Intensity
7500 Lux, max (30 cm area at 12"@3°)
Light intensity/sharpness
adjustable with turning knob
Illumination intensity single flash
ca. 1 Mega-Lux/30cm / 12"
Illumination area
30x50 cm/12 x 20 inches
Flash color
ca. 5000...8.300 K
Material
Aluminum
Dimensions
230x130x112 mm / 9,1x5,1x4,4
Weight
1.400 g
Ambient temperature
0°...40°C (32°...114°F)
Storage temperature
-25°C...70°C (-10°...125°F)
Humidity
max. 95% not condensing
Certifications
Certificate of CE conformity
Warranty
1 Year
Mounting Holes
Located on underside of housing:
(1) 1/4 - 20UNC in center
(2) M5 Threaded Inserts (60 mm c:c) outer
Manual Test Trigger
Pin1 (+24V)
Pin3 (0V)
Jump Pin1 to Pin4
Momentarily Jump Pin3 to Pin5
Item
Description
Price

9 Inch LED Inspection Stroboscope, Requires 24V power (Not included) A6-5200 / RT 5000 LED

$1,995.00

LED Stroboscope in 18 Inch Wide-Body Housing, Requires 24V power

$2,395.00

Accessories

LS-AC-WORLD

24V Power Supply for use with LS Strobes or LS-SCU, 100-265V AC. NOT REQUIRED IF 24V DC AVAILABLE

$99.00

Flash Control Module for manual adjustment of flash rate, A6-1050

$129.00

Remote Control Unit and connection cable

$395.00

Articulating Swing Arm for Stroboscopes

$225.00

Articulating Arm for LS-LED and LS-XENON Strobe Lights including models

$475.00

LS-CABLE-PT

Connection cable to transfer both POWER and TRIGGRER from Primary to Slave Strobe, 5 ft length

$75.00

LS-CABLE-EXT

Extension Cable for LS Strobes, 2 meter with 5-pin MALE/5-pin FEMALE DIN Connectors

$75.00

Sensor for Triggering Stroboscopes On Label Gaps

$150.00

Sensor for Triggering Stroboscopes On Registration Marks

$210.00

LS-DIN

5-pin DIN Connector for use with all LS-Strobes and LS-SCU Strobe Controller

$10.00

Tripod for Tachometers and Stroboscopes

$35.00
1 Week Lead Time (Estimated)
2-3 Week Lead Time (Estimated)
Lead Time Varies, Please contact us for availability.