Flash Range: 40-35,000 RPM/FPM

The DT-315A is a rugged, battery powered stroboscope designed for non-contact RPM measurement, inspection and observation of moving parts by "freezing" or "slowing down" the motion. The DT-315A provides power flexibility as in addition to its internal rechargeable battery it can operate from AC power.
Highest accuracy and most stable flash rate
Accepts external trigger input and provides synchronizing pulse output
Easy-to-read LED display
Phase shift for best view and flash photography
Easy-to-operate controls
Flash rate control
Detachable pistol-grip handle
Instant double and half-rate flash selection for error-free reading
Provides 12 V DC power for external sensors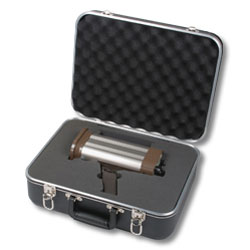 Hard plastic carrying case with custom molded insert allows for safe storage and easy transportation. Provides storage space for the DT-315A, AC adapter, and accessories.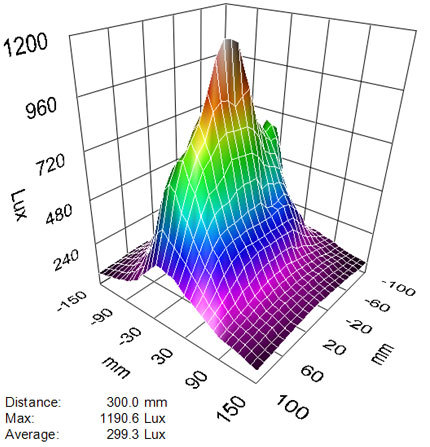 at 30 cm Distance, 6000 flashes/min (FPM)
Flash Range
40-35,000 FPM
Accuracy
Internal Mode: ±0.01% of reading
External Mode: ±0.01% or ± 1 digit
Resolution
0.1 FPM: 40.0 - 4,999.9 FPM
0.2 FPM: 5,000 - 7,999.8 FPM
0.5 FPM: 8,000 - 9,999.5 FPM
1 FPM: 10,000 - 35,000 FPM
Drift
±0.01% per °C
Update Time
Internal Mode: 0.2 seconds
External Mode: ±0.01% or ± 1 digit
Input Signal
LO level: 0-0.4 VDC
HI level: 2.5 - 12 VDC -- or open collector (npn)
pulse width 50us min
Output Signal
Synchronous, 400 µs pulse, 0 to approx. ± 12 V DC 1000 ohms impedance
Display & Rate
Divide or multiply by 2, selectable
Operating Temperature
32-104 °F (0-40 °C)
Display
5 digits, 10 mm high, red LED
Flashtube
Xenon, 10 W maximum
Flash Duration
10-30 µs
Sensor Power Supply
12 VDC ± 0.5V (50ma)
Power Requirements
Internal Rechargeable battery
Weight
4.4 lbs. (2 kg)
Dimensions
4.7 x 5.6 x 9.7" (120 x 141 x 248 mm)
Warranty
2 Years
EXTERNAL MODE ONLY
Phase Shift
0 - 359° with 1° resolution or
0 - 333 ms from 200 - 3,000 FPM
Input Impedance
10,000 ohms