Long, flat fingers and miniature V-grooved rollers are used in applications where there is limited access space or where the running filaments are close together.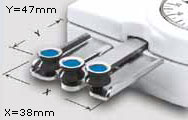 Measuring Head Dimensions
Head Width (X): 38 mm
Head Length (Y): 47 mm
22 mm distance between outer rollers permits a narrow access "window" of only 1/2" x 1 - 1/2".
Rollers are rated for speeds up to 900 m/min. or, optionally, up to 2000 m/min (K).
Turned-up outer finger edges guide the running filament into the roller grooves, eliminating snags behind the rollers.
| Model | Range |
| --- | --- |
| DX2F-3 | 3-30 grams |
| DX2F-5 | 10-50 grams |
| DX2F-12 | 20-120 grams |
| DX2F-20 | 20-200 grams |
| DX2F-30 | 20-300 grams |
| DX2F-40 | 20-400 grams |
| DX2F-80 | 100-800 grams |
| DX2F-SP | 50-1000 grams |
| DX2F-EX | 100-1000 grams |
| DX2F-200 | 200-2000 grams |
*Note:
Can be calibrated for cN units, add sufix "-CN" to end of part number
DX2F Dial Faces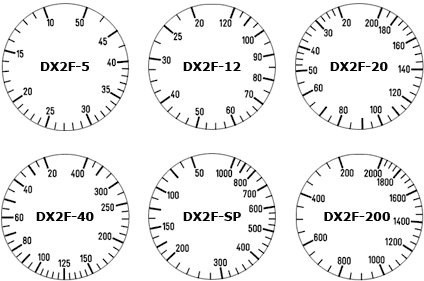 *Note: not all scales are shown
Accuracy
± 1% of full scale or
± 1 graduation mark on scale
Diameter of Scale
41 mm
Maximum Speed
6000 m/min
Roller Material
Hard-coated aluminum (standard)
Hardened steel (ST)
Chromed Steel (w)
Plastic (PL)
Housing Material
Die-cast aluminum
Dimensions
225 x 90 x 44 mm
(8.6" x 3.5" x 1.7")