REPLACED BY DHT-3
The DHT-2 Textile Moisture Meter instantaneously measures the moisture content in fibers, yarns and bales of raw, synthetic or mixed textile material.
17 stored measurement scales for the following materials: wool ,rayon, cotton, linen, nylon, acrylic, polyester, 50% wool-50%cotton, 60% cotton-40% PES, 70%pac-30% wool, 67%pac-33% cotton, 70%PES-30% wool, 70%pes-30%rayon, 67% PES-33% cotton, 50% PES-50% cotton, 50%PES- 50% rayon, 50%pes-50%pac
The DHT-2 Moisture Meter is supplied with probe holder, connection cable in carrying case, needle probes 414 & 418.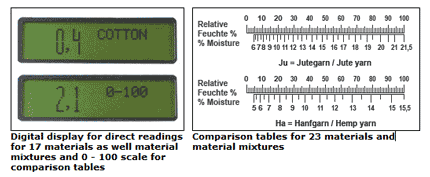 Measuring principle:
The moisture content is determined by measuring the electrical conductivity of the material, which always is proportional to the content of the moisture.
Click Here for Conversion Tables


Instantaneously measures the humidity percentage in fibers, yarns and bales of raw, synthetic or mixed textile material.
Easy to use for many applications
17 stored measurement scales
Portable, battery-operated
0 -100 scale for comparison tables used for other materials like Polyester, Polyamid and many material mixtures
High accuracy and repeatability
414
2-pin electrode 10 cm long for hanks
418
8-pin electrode 6 cm long for spools and bobbins
412
2-pins electrode 30 cm long for cotton and wool bales
416
Roller electrode for fabrics
422
Set of 2 different calibration electrodes with fixed moisture values. Needed for varification and re-adjusting of the instrument.
428
To measure room temperature °C and RH %. Useful parameters to check the balance condition of the materialunder testing. Length 170 mm, weight 60 g
202
For raw cotton, with a friction clutch permitting adjustment of a constant pressure. For measuring bulk goods such as cotton etc.The material is poured into the cup and compressed with the pad of the compression screw. As the material is compressed, it is crushed on the crusher cone to ensure accurate readings. The electrode connects to the moisture meter direct, without the use of the universal measuring cable.
Requires use of additional cable, P/N: 50200CM
Accuracy
±1%
Accuracy of Reading
0.1
Dimensions
6.3" x 3.3" x 1.9"
(160 x 83 x 30mm)
Weight
.7 lbs (300 grams)
Power Supply
9V battery
Auto Power Off
2 minutes
Item
Description
Price

$

Accessories

418

8-Pin Probe, 60 mm long pins (50418M)

$125.00

414

2-Pin Probe, 100 mm long pins (50414M)

$125.00

412

2-Pin Probe, 300 mm long pins (50412M)

$195.00

416

Roller electrode for fabrics - 50416M

$150.00

428

Probe for Temp/Humidity Baseline (50428M)

$200.00

422

Set of 2 Probes for Lo & Hi Calibration (50422M)

$295.00

202

Cup Electrode, 140 x 36mm for cotton (50202M) - Requires Cable 50400CM

$442.40

50200CM

Cable, 202 Cup Electrode to TEM Moisture Meter

$125.00

DHT-2-CAL-E

Extended Calibration Report for DHT-2 Moisture Meter

$175.00

50400M

Spare cable, gauge to probe holder (50400M)

$65.00

50404M

DHT-2 Electrode Holder

$200.00

50400CM

Cable, 202 Electrode to DHT-2/DHT-3 Moisture Meter

$145.60
1 Week Lead Time (Estimated)
2-3 Week Lead Time (Estimated)
Lead Time Varies, Please contact us for availability.