Many
PosiTector® 6000
probes are suitable for underwater measurement and are available with extended cable lengths up to 250 feet / 75 meters. The probe / cable can be used underwater while the display must stay above the surface as it is not waterproof.
Ideal for measuring coating thickness on underwater pipes, ships, bulkheads, offshore oil rigs or anywhere extended reach is required.
Maximum cable lengths vary depending on probe type...
F (ferrous) (FS, FRS, FTS) – up to 250 ft (75 m)
N (non-ferrous) (NS, NAS, NRS) - up to 50 ft (15 m)
FN (ferrous/non-ferrous) (FNS, FNRS) - up to 50 ft (15 m)
Extended cable lengths are also available for ferrous micro probes (F0S, F45S, F90S) and FKS probes (thick coatings) – up to 50 ft (15 m).
Note: Micro probes and FKS probes do not support underwater usage
Contact us for additional information including lead time.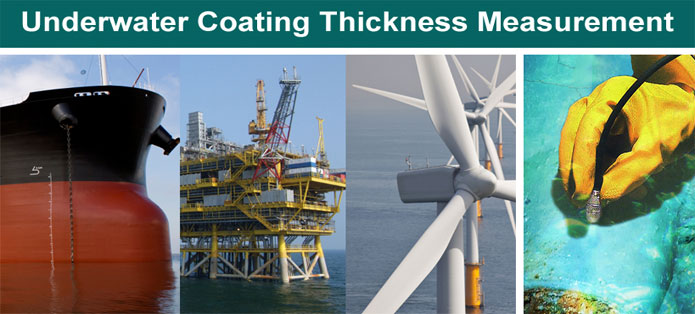 Two year warranty on gage body AND probe
Made in the USA
Certificate of Calibration showing traceability to NIST or PTB included (Long Form)
Built-in temperature compensation ensures measurement accuracy
| | Item | Description | Price | |
| --- | --- | --- | --- | --- |
| | 6000-NS1-UW50 | Non-Ferrous Only Model with Standard Body, Straight Probe with 50 ft Cable for Underwater Use | $1,420.00 | |
1 Week Lead Time (Estimated)
2-3 Week Lead Time (Estimated)
Lead Time Varies, Please contact us for availability.
Many other model configurations are available, inquire.