4 Ranges
Positest GM: 0-8 mils
Positest FM: 0-80 mils

Positest G: 0-200 microns
Positest F: 0-2000 microns
The Positest coating thickness gauge is designed for the non-destructive measurement of nonmagnetic coatings such as (paint, enamel, plastic, galvanizing, metalizing, plating, etc.) on STEEL. Easily measures small parts of almost any shape. Stable design with additional tail-end support. No annoying rocking during measurement.
Permanently calibrated
"V" grooves in probe housing and Gage base allow correct positioning on cylindrical objects
Highly wear resistant Carbide Probe for longest life and continuous accuracy
Can be used underwater
Extra rugged housing, not affected by mechanical shock, water, acid or solvents
GO/NO-GO button can be pre-set for rapid measurement
Explosion Proof – Refinery safe
Made in the USA
Supplied with NIST Traceable Calibration Certificate
Includes gauge, wrist strap, neck strap, NIST traceable calibration certificate and instruction manual in a high quality leather case with belt loops for your convenience.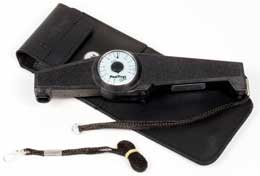 Accuracy
GM: ±0.04 mils up to 0.8 mils
±5% of the reading over 0.8 mils

FM: ±0.2 mils up to 4 mils
±5% of the reading over 4 mils

G: ±1 microns up to 20 microns
±5% of the reading over 20 microns

F: ±5 microns up to 100 microns
Dimensions
8.5"L x 2"H x 1"W
Warranty
1 year
Material Temperature
+32° to +120° F (0 to +50° C)
Weight
6.1 oz