The G1109 peel test fixture is designed for peel testing of tapes, films, foil seals, and other materials. A large, flat working table moves horizontally as the test stand's crosshead moves up via direct cable linkage.
An optional adjustable-angle mount tilts the fixture up to ±30°. Another optional adapter uses an adjustable pulley to set the angle of pull, from 0° to 90°, while the working table remains horizontal. The horizontal orientation is suited for seal testing of filled containers, and can also be used for tapes and other materials.
An integrated limit switch automatically stops the motion of the following test frames when the working table has reached its end of travel: F105, F305, F505, F755*, F1505*, ESM303, ESM1500(S)LC*, ESM750(S)LC*.
* AC1087 adapter required
*Test Stand, Force Gauge, and Upper Grip is sold separately.
Capacity: 100 lbF (500 N)
Maintains 90° angle between the table and the direction of pull
Optional adjustable angle mount tilts the fixture up to ±30°
Optional adjustable angle adapter with pulley, 0° to 90°, while preserving horizontal table orientation (max. force: 30 lbF [150 N])
Large working area with threaded mounting holes
Maximum table travel: 8.2 in (210 mm)
Weight (G1109 only): 6.0 lb (2.7 kg)
Compatible with the ESM303 motorized test stand
Compatible only with force gauges, not remote load cells
Conforms to ASTM D6862, D3330, and D903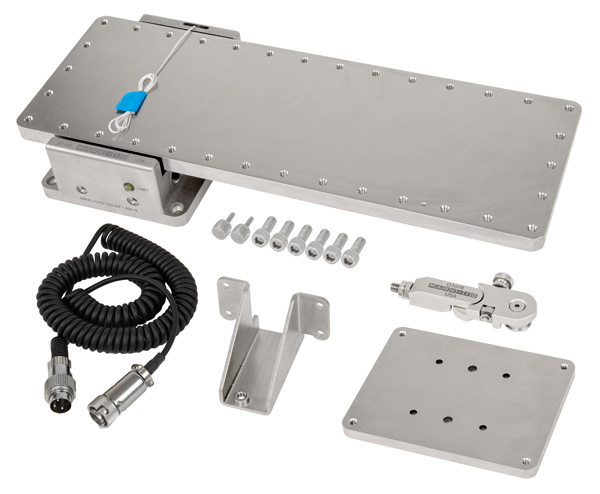 The G1109 peel test fixture is shipped as shown at left, and includes the following:
(1) G1109 fixture
(1) Limit switch cable
(1) Crosshead bracket
(1) G1078 miniature bollard grip
(1) Test stand mounting adapter
(1) Mounting hardware
Item
Description
Price

90° peel fixture kit for Test Stands

$2,080.00

Accessories

AC1078

Adjustable angle pulley adapter for G1109

$435.00

AC1079

Adjustable angle mount for G1109

$510.00

AC1080

Adapter, G1023 / G1058 grips to G1109 peel fixture

$145.00
1 Week Lead Time (Estimated)
2-3 Week Lead Time (Estimated)
Lead Time Varies, Please contact us for availability.