3 Models
HPSA-R20
- roller diameters up to 1.57" / 40mm
HPSA-R35
- roller diameters up to 2.75" / 70mm
HPSA-R55
- roller diameters up to 4.33" / 110mm
For cots, pressure rollers and many other rubber coated rollers, etc. The correct Shore A hardness of the cots is a critical factor to get the desired yarn structure and quality. As cots are abrasive, the hardness should be checked from time to time as they age.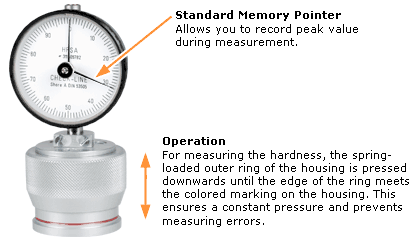 Constant-pressure indicating system assures uniform test pressure eliminating false readings due to differences between operators.
Supplied in a foam-fitted carrying case.
Operation is as easy as pressing the spring-loaded knurled aluminum shell down to the red line.
Memory Pointer is included to capture peak measurement.
Work Face Radius
HPSA-R20 - 20mm
HPSA-R35 - 35mm
HPSA-R55 - 55mm
Indenter:
Cone 35°, 1.3 mm ⌀
Typical applications:
Hardness of elastomers and rubber etc.
Depth of indentation:
0 - 2.5 mm
Test pressure:
Approx. 12.5 N
Measuring spring force:
0.55 - 8.065 N
Display range:
0 - 100 Scale
Scale diameter:
56 mm
Working face:
16 mm ⌀ = 2 cm²
Weight, net (gross):
approx. 300 g (500 g)
Dimensions:
50 x 50 x 110 mm (L x W x H)
Item
Description
Price

HPSA-R20

HPSA-R20 Complete Kit - roller diameters up to 1.57" / 40mm (includes Memory Pointer)

$445.00

Accessories

NISTCAL

NIST Traceable Calibration Certificate (Limited to 80 on scale due to curved base)

$100.00

PTS Durometer Test Stand - for HPSA/HPSD

$595.00

Test Block for HPSA-R35, HPSA-R55, HP-2.5, HP-5 and HP-10

$95.00

HP-PR

Test Block for HPSA-R20

$100.00

LM-E

Extension cable, 2 meters

$52.00

LM-S

Sensor & Magnet for LMI/LMC

$48.00
1 Week Lead Time (Estimated)
2-3 Week Lead Time (Estimated)
Lead Time Varies, Please contact us for availability.