4 Tension ranges available from 150 - 2500 g up to 2 - 20 Kg
For use on cables, ropes, wires, buffer tubes, optic fiber tows etc. up to 10 mm, as well as flat material up to 10 mm width
Large, hardened guide rollers for minimized material deflection with 29.5 mm groove
Memory for 60,000 data points with USB output
Large 30 mm diameter V-grooved rollers fabricated from Hardened Steel for materials up to max. 5 mm diameter)
Optional U-Grooved Rollers (Code "R1"), Flat Cylindrical Rollers 6mm width between flanges (Code "B6) or 10mm width between flanges (Code "B10")
Memory for 60,000 data points with USB output with sample rates up to 1kHz
Includes Tension Inspect Software at no additional charge; displays real-time readings on a PC or download stored data
Optional Wi-Fi for wireless communication to a PC
Large, backlight LCD-display with 3 different displays: numeric, numeric with live load bar, numeric with graph (time-tension)
Display automatically rotates in 90° steps (or can be locked in any desired position)
Automatic "Zero-Setting" in all measuring positions using built-in gravity sensor
9 Separate Calibration Material memory locations for custom calibrations (can be performed by end-user and saved with alpha-numeric name)
Storage of Min, Max and Last reading as well as Hi-Peak, Low-Peak, average and standard deviation
High speed internal data sampling (8 kHz) for capture of accurate Min & Max Peaks
Selectable units of measurement: Grams, cN, Kg, daN, Lbs and Newtons (N)
Setup parameters can be password protected if desired so they are not accidentally changed by the user
User-set Min and Max alarms with indication on LCD if reading is out of limits
User-adjustable DAMPING is used to minimize tension fluctuations
Re-chargeable Lithium Polymer battery lasts 40 hours (continuous use, approx)
Rugged aluminium housing with rubberized handle provides a secure and comfortable grip
| Model | Measuring Range | Resolution | Measuring Head Width* |
| --- | --- | --- | --- |
| DTXL-2500 | 150 – 2500 grams or cN | 1 grams or cN | 185 mm |
| DTXL-5000 | 250 – 5000 grams or cN | 1 grams or cN | 185 mm |
| DTXL-10K | 1 – 10.00 Kg or daN | 0.01 Kg or daN | 235 mm |
| DTXL-20K | 2 – 20.00 Kg or daN | 0.01 Kg or daN | 235 mm |
* Width of bracket assembly
Online Mounting Code MH
To mount the gauge for online use, the housing can be equiped with mounting threads. There are to bolts with M5 female thread on the rear side. This feature cannot be installed afterwords.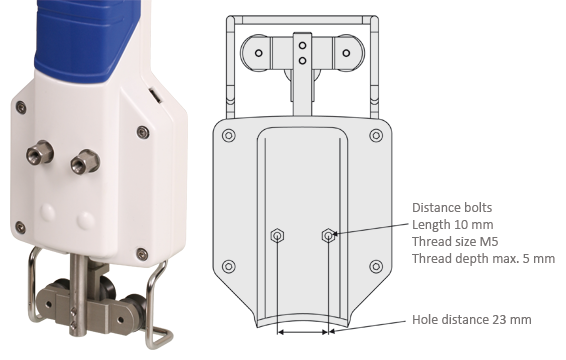 Wifi Signal Code WL
The instrument can be equiped with a Wi-Fi Modul for WLan data transfer. This feature cannot be installed afterwords.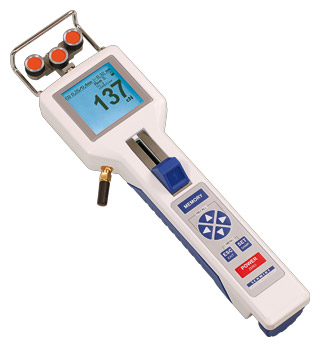 Calibration:
According SCHMIDT factory procedure
Accuracy:
For PA from 5 % up to 100 % FS*:
± 0.5 % FS* ± 1 digit
remaining tension range and other calibration materials:
±3 % full scale and ±1 digit
Memory for material curves:
1 for SCHMIDT calibration plus 10 for customized calibrations
Measuring units:
Force (switchable): cN, daN, g, kg, N, lb Thickness (switchable): mm, inch
Overrange:
Approx. 10 % FS*, full scale, without accuracy guarantee
Overload protection:
100 % full scale
Measuring principle:
Strain gauge bridge
Signal processing:
Digital, 16 bit A/D converter
Measuring frequency:
Max. 1 kHz (1000 measurings/sec.), intern 8 kHz
Measuring roller deflection:
Max. 0.2 mm
Display:
Graph LCD
3 different displays:
Numeric Numeric with graph (time-tension) X-Y-diagram
Display update rate:
Approx. 2 times per second
Memory:
MIN, MAX, PEAK, AVG and LAST
Output signal:
USB
Memory:
60.000 values split up to 255 measuring positions
Memory modes:
4 memory modes with statistical evaluation
Damping:
Adjustable electronic damping (averaging)
Cal. Adjustment:
± 10 steps in 1 % increment
Auto power off:
Approx. 3 minutes of non-use
Temperature coefficient:
Gain: less than ± 0.01 % FS* /°C
Zero point:
less than ± 0.03 % FS* /°C
Temperature range:
10 – 45 °C
Air humidity:
85 % RH, max.
Power supply:
LiPo accumulator (approx. 40 h continuous use), charging time approx. 3 1/2 h AC adapter 100 – 240 V AC,adapter (EU, USA, UK)
Housing material:
Die-cast aluminium
Housing dimensions:
(see Dimensions)
Weight, net (gross):
Approx. 940 g / 1620 g
Replacement Battery
E08711-X
Replacement Charger
USB-MINI-CHARGER
Thank You
Thank you for your quote request, we will contact you within 1-2 business days.
There was an error submiting the form. Please try again.