2 models available
MK-720L-E
- Long-distance type (Approx. 10m)
MK-720-E
- Short-distance type (Approx. 3m)
The MK-720 is hand-held, battery-powered device designed to detect Electrical Arcing & Corona Discharge conditions --- without contact! Corona Discharge occurs when there is a problem with disconnectors, circuit breakers, insulators, etc leading to losses and potentially dangerous conditions. The MK-720 uses a proprietary algorithm to isolate the ultrasonic sound waves associated with Corona Discharge, separating it from the background noise performed, measured while the line is powered (hot). This algorithm significantly reduces the likelihood of false positive detection common with typical Ultrasonic Leak Detectors.
A large backlit LCD faces the user provide visual and audible indicators. A earphone is provided as part of the standard delivery helping the user to hear the audible tone alerting to the presence of Corona Discharge.
It features an over-sized ultrasonic receiver providing excellent range along with a focus with measurement in ±8° spot. It also features a laser pointer helping the user to visibly identify the target at all times.
Detects insulation deterioration on insulators, switches and circuit breakers!
Precise measurement in ±8° spot
Integrated Laser Pointer Identifies area of corona discharge
Records measurement data (Component rate, Waveform, FFT data)
Easily transferable recorded data to PC via USB cable
Generates audible sound from corona discharge and transmits through an earphone
Broadband ultrasound is emitted with corona discharge due to insulation deterioration at AC powered facilities. Since the intensity of the emitted ultrasound varies periodically with alternative voltage, double frequency components of power-supply appears prominently in frequency analysis after envelope detection of the received ultrasonic wave. MK-720 can detect corona discharge without effects of ambient noises by evaluating the intensity of double frequency components of the power-supply.


MK-720L Model Only: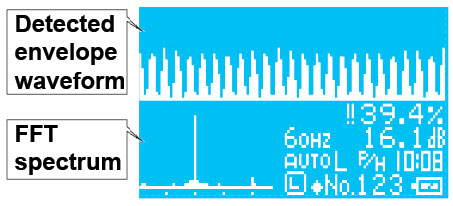 Detecting frequency
Central frequency 40kHz
Detecting directionality
±8°
Sensitivity
MK-720-E: 15% and more at 1 meter distance
MK-720L-E: 20% and more at 2 meters distance, 6% and more at 8 meters distance
(Discharge measurement equivalent 100 to 300 pC)
Functions
Display of discharge component rate
Display converted value in acoustic pressure
Alarm based on discharge component rate
Measuring point indication with laser pointer (Laser pointer light intensity Class 2 JIS C6802, Class 2 IEC 6825-1)
MK-720L only: Peak hold mode, Display of measured wave and FFT spectrum
Data memory
Discharge component rate and converted value in acoustic pressure:
MK-720-E: Max. 500 data
MK-720L-E: Max. 200 data
Received ultrasound waveform FFT TOP10:
MK-720-E: Max. 10 data
MK-720L-E: Max. 70 data

Output
Buzzer by setting max level
Signal output via 3.5mm mini jack
USB port for memory data output (USB mini B socket)

Power supply
4x AA alkaline battery (over 8 hours continuous use)
Dimensions
W 174 X H 268 X D 98 mm
Weight
Approx.400g (excluding batteries)
Temp Limits
32-104 °F / 0-40 °C, 10-85%RH (non condensing)
Standard configuration
MK-720, 4x AA batteries, USB cable, Software (Win XP & 7) (CD) (MK-9804), Earphone, Strap, Instruction manual, Inspection sheet
Options
Carrying case (MK-9703), Soft case (MK-9702), Reference oscillator (MP-161)
Item
Description
Price

Corona Discharge Checker Short-distance type (Approx. 3m)

$2,495.00

Corona Discharge Checker Long-distance type (Approx. 10m)

$2,495.00

Accessories

MK-9702

MK-720 Soft Carrying case

$85.00

MK-9703

MK-720 Hard Carrying case

$245.00

MP-161

MK-720 Reference oscillator

$995.00
1 Week Lead Time (Estimated)
2-3 Week Lead Time (Estimated)
Lead Time Varies, Please contact us for availability.