The DT-315A and DT-315A-2 are no longer available. They have been replaced by model DT-3015N


Flash Range: 40-35,000 RPM/FPM

The DT-315A is a rugged, battery-powered stroboscope designed for non-contact RPM measurement, inspection and observation of moving parts by "freezing" or "slowing down" the motion. The DT-315A provides power flexibility as in addition to its internal rechargeable battery it can operate from AC power.
NIST-Traceable Calibration Certificate & Test Report optionally available
Highest accuracy and most stable flash rate
Accepts external trigger input and provides synchronizing pulse output
Easy-to-read LED display
Phase shift for best view and flash photography
Easy-to-operate controls
Flash rate control
Detachable pistol-grip handle
Instant double and half-rate flash selection for error-free reading
Provides 12 V DC power for external sensors
Made in Japan
2-Year Warranty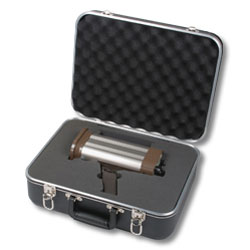 Hard plastic carrying case with custom molded insert allows for safe storage and easy transportation. Provides storage space for the DT-315A, AC adapter, and accessories.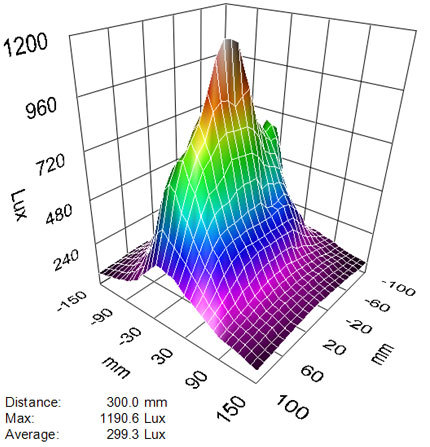 at 30 cm Distance, 6000 flashes/min (FPM)
Flash Range
40-35,000 FPM
Accuracy
Internal Mode: ±0.01% of reading
External Mode: ±0.01% or ± 1 digit
Resolution
0.1 FPM: 40.0 - 4,999.9 FPM
0.2 FPM: 5,000 - 7,999.8 FPM
0.5 FPM: 8,000 - 9,999.5 FPM
1 FPM: 10,000 - 35,000 FPM
Drift
±0.01% per °C
Update Time
Internal Mode: 0.2 seconds
External Mode: ±0.01% or ± 1 digit
Input Signal
LO level: 0-0.4 VDC
HI level: 2.5 - 12 VDC -- or open collector (npn)
pulse width 50us min
Output Signal
Synchronous, 400 µs pulse, 0 to approx. ± 12 V DC 1000 ohms impedance
Display & Rate
Divide or multiply by 2, selectable
Operating Temperature
32-104 °F (0-40 °C)
Display
5 digits, 10 mm high, red LED
Flashtube
Xenon, 10 W maximum
Flash Duration
10-30 µs
Sensor Power Supply
12 VDC ± 0.5V (50ma)
Power Requirements
Internal Rechargeable battery (NiCad)
Weight
4.4 lbs. (2 kg)
Dimensions
4.7 x 5.6 x 9.7" (120 x 141 x 248 mm)
Warranty
2 Years
EXTERNAL MODE ONLY
Phase Shift
0 - 359° with 1° resolution or
0 - 333 ms from 200 - 3,000 FPM
Input Impedance
10,000 ohms
Item
Description
Price

Battery Powered Digital Stroboscope, with USA Plug

$

Battery Powered Digital Stroboscope, with Euro Plug

$

Accessories

Spare flash tube for DT-300 Series Strobes - FLASHTUBE311-2

$55.00

Carrying Case for DT-300 Series Strobes

$130.00

Protective Rubber Caps for DT-300 Series Strobes

$99.00

Spare / Replacement NiCad battery pack for DT-315A - BAT-DT315AP-ASSY

$150.00

Articulating Swing Arm for Stroboscopes

$225.00

Replacement / Spare Charger DT-315A 100-240 VAC - DT-315CHARGER

$110.00

Input / Output Connector for DT-311A, DT-315A Stroboscopes

$30.00

311RT

Spare Flash Tube Removal Tool

$15.00
1 Week Lead Time (Estimated)
2-3 Week Lead Time (Estimated)
Lead Time Varies, Please contact us for availability.