The first generation WTTM has been replaced by a new and improved version. Please click here to view the new model
2 Models Available
WTTM-110 - Capacity: 110LB/50KG/500N
WTTM-220 - Capacity: 220LB/100KG/1000N
The new Check•Line WTTM Motorized Wire Terminal Pull Test is designed for tensile strength testing of wire terminals in accordance with DIN, EN, BS, IEC, UL, SAE and MIL standards
Its very simple operation allows the users to acquire reliable and reproducible test results: the user inserts the wire terminal into the receptacle adapter, and the open wire end into the combined clamp-pull device. After the protection cover has been closed, the motor starts. The wire will be fixed into position, and then constantly pulled.
Suitable for wires AWG 30 to AWG 8 (diameters from 0.010" to 0.130").
Easy to use - with automatic peak value recording, very high accuracy and reproducibility of measurement results
Selectable pull rates of 1 to 10 inches/min (25 to 250 mm/min)
Supplied with FREE Data Transfer program and serial cable
Includes Traceable Calibration Certificate
To operate, simply follow these steps:
1. Select the appropriately sized slot in the Wire Terminal Fixture and rotate to the front position
2. Insert the terminal and wire so that it is secured on the back-side of the slot
3. Route the wire so that it passes through the clamping device
4. Select Peak-Hold or Continuous Measure mode using the PEAK key
5. Press the ZERO key to perform tare function
6. Close the protective cover and the motor will start the test
7. Read current force and breaking force on the digital display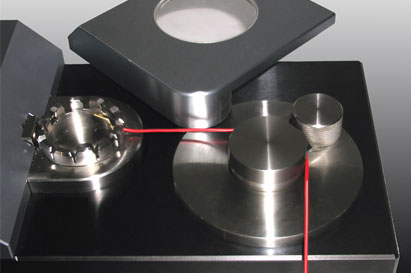 Measuring Range
WTTM-110: 0-50 Kg / 0-110 lbs / 0-500N
WTTM-220: 0-100 Kg / 0-220 lbs / 0-1000N
(units selected via keypad)
Resolution
WTTM-110: 0.01 Kg / 0.1 lbs / 0.1 N
WTTM-220: 0.1 Kg / 0.1 lbs / 1 N
Terminal Adapter Slot width (mm)
0.5, 0.8, 1.0, 1.4, 1.5, 2.0, 2.5, 3.0, 3.5, 4.0, 5.0, 6.0
Accuracy
±0.5% F.S. (±½ digit)
Operating Modes
Real Time:
Displays actual value in Kg, lbs or N
Peak:
Displays peak value in Kg, lbs or N
Wire Diameter
SAE AS7928 II: AWG 8...30
IEC 60352-2: Cross section 0.05...10mm²
Maximum: 0.236" (6mm)
Overload
120% Full Scale (LCD indicator at 120%)
Display
LCD, 4-1/2 digit, 12mm high
Update Rate
Real Time Mode: 333msec
Peak Mode: 1msec
Memory
Peak Value
Power Supply
Universal AC Adapter 100-240VDC (50/60Hz)
Internal NiCd battery
Interface
RS-232C - 19,200 KB / 8 / N / 1 / None (selectable baud rate)
Temp. Range
Operating: 32 to 104° F (0 to 40° C)
Storage: -4 to 140° F (-20 to 60° C)
Weight
42 lbs (19 Kg) (Shipping weight 44lbs)
Dimensions
13.8" x 6.3" 4.3" (350 x 160 x 110mm)
Material
Anodized aluminum, steel and stainless steel V2A
Item
Description
Price
Accessories

WTTM-PS

Spare / Replacement Power Adapter for WTTM First Generation

$65.00
1 Week Lead Time (Estimated)
2-3 Week Lead Time (Estimated)
Lead Time Varies, Please contact us for availability.