The WTT-110 has been replaced by the new and improved WT3-201. Please click here to view the new model
Measuring Range 0-50 Kg / 0-110lbs / 0-500 N
(User Selected)
Accurately measure the pull or "pull-off" force on most soldered or solder-less wire terminals, crimped connectors and similar wire terminations.
The WTT-110 is an easy to use all-in-one, single-range solution suitable for a vast majority of terminal testing applications eliminating the need to purchase any additional grips, fixtures or accessories.
Suitable for wires AWG 30 to AWG 8 (diameters from 0.010" to 0.130").
Precision strain gauge sensing provides a resolution of 1/5000 with an accuracy of 0.5%
Display force values in "peak-hold" or "continuous" measurement mode
Operates from AC power or built-in rechargeable battery via supplied adapter/ charger
Test for UL 486 & Mil Spec and other standards
Fabricated from steel and stainless steel, machined to the highest tolerances
Model WTT-110RS includes RS-232 and analog outputs for external data recording
Includes Traceable Calibration Certificate
To operate, simply follow these steps:
1. Select the appropriately sized slot in the Wire Terminal Fixture and rotate to the front position
2. Insert the terminal and wire so that it is secured on the back-side of the slot
3. Route the wire so that it passes between the lever and the lever clamp
4. Select Peak-Hold or Continuous Measure mode using the PEAK key
5. Press the ZERO key to perform tare function
6. Rotate the lever clockwise, which clamps the wire and begins creating a pull force on the terminal
7. Read current force and breaking force on the digital display

Calibration for all WTT-110 models can easily be verified or re-certified with a single 50 Kg hook weight as described below:

1. Remove the lever by unscrewing it in a counter-clockwise direction and move the Wire Clamp assembly out from the path of the hanging sample.

2. Position the WTT-110 in a vertical position at the edge of a strong bench or desk (refer to photo). Be sure to secure it so it can not topple over when the weight is attached.

3. Using a heavy-duty monofilament (fishing line), wire or similar, suspend a known weight from one of the teeth on the wire terminal fixture by hooking a loop of the material over the selected tooth.

Complete calibration instructions:
WTT-110 Calibration Manual - Click here to download
The WTT-110 is supplied as a Complete kit that includes; main instrument table, separate hand lever with ball end, 9VDC battery charger 100...240VDC (50...60Hz) with Euro/US/UK plug adaptor, operating instructions & Traceable certificate. WTT-110RS model also includes connection cable for RS232C (not shown)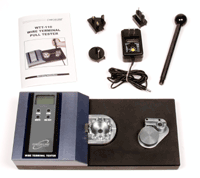 Measuring Range
0-50 Kg / 0-110 lbs / 0-500N
(units selected via keypad)
Resolution
0.01 Kg / 0.1 lbs / 0.1 N
Terminal Adapter Slot width (mm)
0.5, 0.8, 1.0, 1.4, 1.5, 2.0, 2.5, 3.0, 3.5, 4.0, 5.0, 6.0
Accuracy
±0.5% F.S. or better
Operating Mode
Continuous:
Displays actual value in Kg, lbs pr N
Peak-Hold:
Displays peak value in Kg, lbs pr N
Wire Diameter
SAE AS7928 II: AWG 8...30
IEC 60352-2: Cross section 0.05...10mm²
Maximum: 0.236" (6mm)
Overload
200% Full Scale (LCD indicator at 120%)
Display
LCD, 4-1/2 digit, 12mm high
Memory
Peak Value
Power Supply
Internal NiCd battery, supplied with AC adapter/charger (115 V/60Hz)
Interface
*WTT-110RS Only
RS-232C - 2400 KB / 8 / N / 1 / None (selectable baud rate)
Temp. Range
Operating: 32 to 104° F (0 to 40° C)
Storage: -4 to 140° F (-20 to 60° C)
Weight
30.8 lbs (14 Kg) (Shipping weight 37lbs)
Dimensions
14.2" x 6.3" 2.6" (360 x 160 65mm)
Material
Anodized aluminum, steel and stainless steel
Warranty
1 Year
Reverse Display
Turn the tester off, press and hold the Units Key, press and release ON/OFF and after 2 seconds release the units key.
Item
Description
Price

The WTT-110 is no longer available.

$0.00

The WTT-110RS is no longer available.

$0.00

Accessories

Spare / Replacement Power Adapter for most Shimpo gauges

$30.00

BATT-FGEX

Spare / Replacement Internal Rechargeable NiMH Battery - FVE-BAT - BFGG0200511

$50.00

WTT-110-LEVER

Lever with Ball for WTT-110 and WTT-110RS

$30.00

USB-RS232-ADAP

RS232 to USB Adapter

$35.00

WTT-WCU

WTT-110/220/220X Wire Clamp Upgrade / Replacement

$495.00

WTT-WCU-RF

WTT-110/220/220X Wire Clamp Upgrade / Replacement, refurbished

$295.00
1 Week Lead Time (Estimated)
2-3 Week Lead Time (Estimated)
Lead Time Varies, Please contact us for availability.