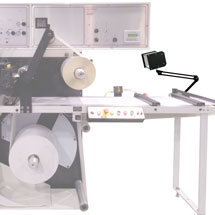 The Checkline LS-9-12000-UV stroboscope is designed for visual inspection of UV ink on labels and other printed material. It is commonly used on slitters, rewinders, and similar process equipment.
The LS-9-12000-UV's flash can be triggered by an external sensor or optional plug-in module (LS-FCM). Two or more strobes can be synced together to cover wide webs.
The LS-9-12000-UV requires 24V DC power. If 24V DC power is not available we offer an option AC-DC power supply, part number LS-ACWORLD-90VA.
Powerful xenon flash tube will illuminate the complete spectrum of UV ink
Uses long-life Quartz Glass Xenon tube has a typical life of over 200 Million flashes
Extremely short flash duration of less than 10 microseconds (µs) provides for a super-sharp image
Requires 24V DC Power (Not Included), An optional power adapter is available.
Can be externally triggered using industry standard TTL-type square-wave signal at rates up to 208Hz and even higher
9 inch wide (230 mm) aluminum enclosure efficiently dissipates heat eliminating need for bulky heat sinks
Two (2) or more LS-9 Strobes can be synced for wider web coverage
CE-certified with safety and EMV approvals suitable for use worldwide
Threading holes provided for fixed-mounting on machine frame or articulating arm
Adjustable light intensity 30-100% to optimize brightness for any application
Flash Range
0 - 12,500 FPM (flashes per minute)
Power Required
18 - 28 V DC / 1.6A (40 Watts)
Universal AC power supply sold separately, pn LS-AC-WORLD-90VA
External Trigger Input
3 - 30 V / max 5 mA
(voltage-free optocoupler)
DIN 41524 5-pin standard plug
Uout = Uin, max 200 mA
Life Cycle
> 200,000,000 flashes (@6000 FPM)
Flash Duration
< 10 μsec (microseconds)
Flash Brightness
Single flash 20 megalux @ 30cm (12 inches)
Flash Brightness
2500 lux @ 30cm (12 inches), 6000 FPM
Flash Energy
2 Joules (2000 mJ @ 900 FPM)
Brightness Adjustment
30 - 100% via knob on backside panel
(to optimize brightness for each application)
Illumination Area
approx. 12" x 20" (300 x 500 mm)
Light Colour
6000 - 6500 K
Housing Material
Aluminum
Dimensions
9.1" x 5.1" x 4.4" (230 x 130 x 112 mm)
Weight
1400 g (3 lbs.)
Ambient Temperature
0 - 40 °C (32-114 °F)
Storage Temperature
-25 - 70 °C (-10 - 125 °F)
Air Humidity
Max 95%, non-condensing
Mounting Holes
Threaded 1/4 x 20 unc and 2x M5 holes on bottom side of strobe housing
Warranty
1 Year
Mounting Holes
Located on underside of housing:
(1) 1/4 - 20UNC in center
(2) M5 Threaded Inserts (60 mm c:c) outer
Manual Test Trigger
Pin1 (+24V)
Pin3 (0V)
Jump Pin1 to Pin4
Momentarily Jump Pin3 to Pin5
Item
Description
Price

9 Inch UV Stroboscope with LS-DIN connector - Requires 24V power source (Not included)

$1,895.00

Accessories

LS-ACWORLD-90VA

24V Power Supply for LS-18-LED & LS-9-12000 Strobes, 100-265VAC.

$149.00

Flash Control Module for manual adjustment of flash rate, A6-1050

$129.00

LS-CABLE-PT

Connection cable to transfer both POWER and TRIGGRER from Primary to Slave Strobe, 5 ft length

$75.00

LS-CABLE-EXT

Extension Cable for LS Strobes, 2 meter with 5-pin MALE/5-pin FEMALE DIN Connectors

$75.00

LS-DIN

5-pin DIN Connector for use with all LS-Strobes and LS-SCU Strobe Controller

$10.00

Sensor for Triggering Stroboscopes On Label Gaps

$150.00

Sensor for Triggering Stroboscopes On Registration Marks

$210.00
1 Week Lead Time (Estimated)
2-3 Week Lead Time (Estimated)
Lead Time Varies, Please contact us for availability.