Quickly and easily detect air and water leaks in building envelopes and rigid air barrier systems. Ideal for testing penetrations (fasteners, masonry ties, etc.) and continuity of joints and seams in rigid air barrier systems.
For use with...
Single and two-ply membranes
Liquid applied membranes
Sprayed Polyurethane Foam (SPF)
Boardstock
Metal Liners
Exterior Insulation and Finish Systems (EIFS)
EPDM roofing systems
Waterproofing and more
Automatic mode depressurizes the test chamber at a selectable rate and limit
Internal memory stores up to 200 test results with rate, time duration, limit and user-entered Pass/Fail conclusion
Environmentally sealed enclosure - dustproof and waterproof
High accuracy pressure sensor
Each kit comes with everything needed for testing
Portable, lightweight tester can be used in any position
Manual mode allows the user to control the rate of depressurization
Built-in rechargeable batteries perform up to 200 tests per charge. Continue testing with AC power while batteries recharge. Supplied with universal AC adapter
Conforms to National Standards including ASTM E1186
Includes FREE downloadable PosiSoft 3.0 Desktop Software for PC
One year warranty
1. Apply the PosiTest AIR Test Solution to the test area

2. Place the clear Test Chamber over the test area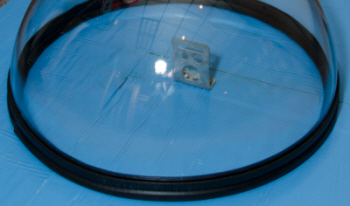 3. Initiate the test (depressurize the chamber)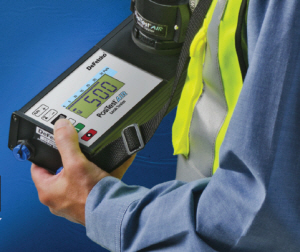 The location of an air leak is indicated by bubbling of the Test Solution. An estimate of the relative size of the leak can be made based on the size and speed with which the bubbles form. The image below demonstrates an air leak is present (FAIL test result)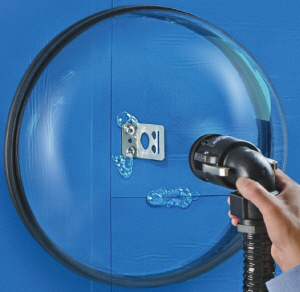 Upon completion of the test, the maximum pressure differential and duration of the test will flash on the display.
4. Store Test Result (optional)
The PosiTest AIR's internal memory can store up to 200 test results which can be transferred to a PC using PosiSoft 3.0 Desktop Software. Test results include rate of depressurization, pressure differential limit, time duration and user-entered PASS/FAIL conclusion.
PT-AIR comes complete with shoulder strap, high impact polycarbonate test chamber, durable 5' (1.5 m) hose with quick disconnect couplings, built-in rechargeable NiMH batteries with charger (AC power supply), 8 oz. test solution with dauber (Qty. 4), instruction manual, USB cable, PosiSoft 3.0 Desktop Software (available as a free download), Certificate of Calibration traceable to NIST, one (1) year warranty and soft-sided nylon carry case.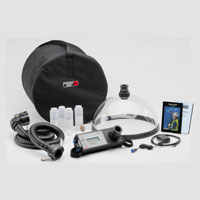 | | |
| --- | --- |
| Pressure Differential Range | 100 - 900 Pa |
| Rate of Depressurization | 5 - 30 Pa/Sec |
| Test Chamber Size | ⌀16" (40 cm) Base |
| Resolution | 1 Pa |
| Accuracy | ±(10% + 10 Pa) |
| Carry Case Dimension | 38 cm (15") x 48.3 cm ⌀ (19") |
| Weight | 8.5 lbs. / 3.8 kg |
Do your instruments require any formal training for use? Do you offer 'demo' models?
No. Our instruments are designed for simple operation, feature easy-to-use menus, both full and quick instruction manuals, and helpful videos. In lieu of demonstration models, we provide unlimited technical support via telephone and/or email, and a limited 30-day money back guarantee.

Does the PosiTest AIR include a certificate of calibration?
The PosiTest AIR arrives fully calibrated and ready to measure. A long-form Certificate of Calibration showing traceability to a national standard is included at no additional expense. For organizations with re-certification requirements, the PosiTest AIR may be returned at regular intervals for calibration. The manufacturer recommends that our customers establish their instrument calibration intervals based upon their own experience and work environment. Based on our product knowledge, data and customer feedback, a one year calibration interval from either the date of calibration, date of purchase, or date of receipt is a typical starting point.

Does the PosiTest AIR include fixtures for testing corners or angled surfaces?
The PosiTest AIR includes a dome test chamber. No other test chamber configurations are available from the manufacturer.

Can dish soap be used instead of the included solution?
The manufacturer recommends the use of PosiTest AIR Test Solution only. The Test Solution is specially formulated not to have any adverse effects on waterproofing, roofing, air barrier membranes or the PosiTest AIR unit.

Can the solution included with the PosiTest AIR be used at low temperatures?
The included solution is suitable for use in temperatures ranging from -10° C to 65° C. Low temperature fluid is available as an accessory item and is suitable for use between -20°C and 65°C.

What is the shelf life of the solution included with the PosiTest AIR?
Based upon our observations, the test solution is completely shelf-stable and will not lose efficacy over time.
Item
Description
Price

Positector AIR Leak Tester - AIR

$2,695.00

Accessories

TESTSLTN16

PosiTest Air Test Solution, case of (16) 8 oz. bottles. Operating temperature: 14° to 149° F (-10° to 65° C)

$115.00

TESTSLTNLT

PosiTest Air Low Temp Test Solution, case of (16) 8 oz. bottles. Operating temperature: -4° to 149° F (-20° to 65° C)

$200.00

PTAHOSE

Vacuum Hose Assembly Replacement for PT-AIR

$160.00
1 Week Lead Time (Estimated)
2-3 Week Lead Time (Estimated)
Lead Time Varies, Please contact us for availability.