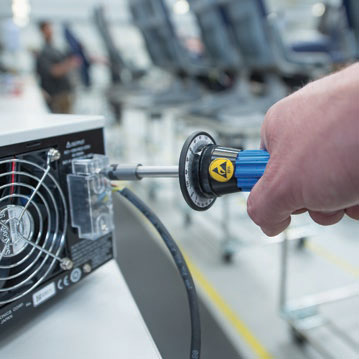 The TT torque screwdriver is designed for precision assembly and quality control applications. A dial indicator displays real-time application and removal torque. The memory system holds maximum torque reached.
Absolute accuracy: Unique torsion bar mechanism to ensure total precision
Dual scale: Dial provides efficient measurement in Metric and Imperial torque units in both directions, delivering flexibility and minimizing tool investment
Ease of use: Lightweight materials. Tools can be used by operators at any skill level
Long tool life: High quality, robust construction: stainless steel shaft, attractive colored aluminum handle, and sturdy dial
Measure Process Conformity: Unique memory function enables these tools to carry out the Just Move and Break Loose Quality Auditing Tests
No risk of tool damage: Overload Protection System with unique positive contact mechanism
Operational versatility: Torque can be measured as it is applied (Track mode) or when the maximum torque value has been recorded (Peak mode)
The preferred and certified ranges of these tools is in accordance with the requirements of ISO 6789:2003 (+/- 6% of indicated reading).
Flat tension spring is used to give the best linear characteristics in both directions.
Dual American and S.I. graduated scales.
Quality constructed with stainless steel shafts, attractive colored aluminum handles and sturdy dials for maximum tool life.
NIST Traceable Calibration Certificate OPTIONAL
Range
Graduation
Model
American
S.I.
American
S.I.
Drive
TT50
14 – 70 ozf.in
10 – 50 cN.m
2 ozf.in
2 cN.m
1/4" F/Hex
TT100
28 – 140 ozf.in
 20 – 100 cN.m
5 ozf.in
5 cN.m
1/4" F/Hex
TT250
4 – 20 in.lbs
 50 – 250 cN.m
0.5 lbf.in
10 cN.m
1/4" F/Hex
TT500
8 – 40 in.lbs
100 – 500 cN.m
1 lbf.in
20 cN.m
1/4" F/Hex
Item
Description
Price

TT 50 FH Dial Screwdriver, 1/4" F/Hex drive - 020151, 017400

$564.57

TT 100 FH Dial Screwdriver, 1/4" F/Hex drive - 020153, 017500

$564.57

TT 250 FH Dial Screwdriver, 1/4" F/Hex drive - 020155, 017600

$573.41

TT 500 FH Dial Screwdriver, 1/4" F/Hex, - 020157, 017700

$573.41

Accessories

TT-CERT

Calibration Cert for TT Screwdriver

$50.00
1 Week Lead Time (Estimated)
2-3 Week Lead Time (Estimated)
Lead Time Varies, Please contact us for availability.