3 Ranges
200 KG (440 LBS/2000N)
300 KG (660 LBS/3000N)
500 KG (1100 LBS/5000N)
Completely sealed tension sensor is constructed from stainless steel with an IP67 waterproof rating designed for use in a wide variety of tension/force sensing application, even when submerged in water. Also suitable for high force application as well as those application where there is a significant quantity of airborne particulate or chemicals.
Its unique strain-gauge design delivers excellent measurement precision and stability as well as providing maximum overload protection. This sensor is supplied with a 17mm diameter, non-rotating bearing journal typically used with customer-supplied rollers or guide pulleys.
17mm non-rotating bearing journal for user-supplied rollers or sheaves
A single-roller system designed to use an existing reversing point for tension measurement
Completely sealed sensor fabricated from stainless steel is IP67 Waterproof rated
Resolution of 0.1% and better
Rugged stainless steel housing is environmentally sealed
Overload protection up to 800%
Supplied with a 10 ft. (3 m) integrated cable. Optional lengths are available
Custom sensor designs can be developed to meet specific applications requirements. Inquire.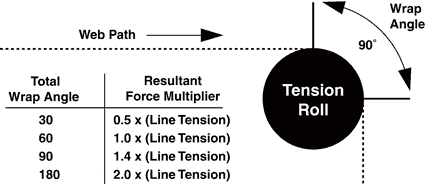 Measuring Ranges
200 KG (440 LBS/2000N)
300 KG (660 LBS/3000N)
500 KG (1100 LBS/5000N)
Measuring Principle
Strain Gauge
Accuracy
±0.5% Full Scale or better
Sensor Excitation
10 VDC (12 VDC, max.)
Sensor Output
1.5 mV/V
Input Resistance
1000 Ohms
Output Resistance
1000 Ohms
Overload Protection
400 - 800%
Deflection
0.07mm (max.)
Housing Material
Stainless Steel
Environmental Protection
IP67 (Water-Proof)
Cable Type
4.5 mm diameter shielded cable with bare leads
Cable Length
10 ft. (3 meter) integrated, longer lengths available. Inquire
Operating Temperature
15 to 122° F (-10 to 50° C)
Fequency Responce
5 msec (200 Hz)
Resultant Force
[Line Tension] x sine α [wrap angle]
Zero Adjustment
±45%
Weight
450g