Capacity: up to 22,000 Lbs (10t)
For Fiber Ropes Only (not wire ropes)
CableSafe Running Line Tensiometer is designed to measure the tension on running leader ropes or fiber ropes that are used to pull fiber optic cables and other conductors thru conduit and cable troughs. When used in the field, it will allow the user to monitor tension with exceedingly high levels of accuracy, which ensures that rope/cables do not become overstretched or break.

When using a capstan winch to unwind electrical cable from a reel/spool, you will be able to integrate the CableSafe within this setup to ensure that it is being pulled at a safe tension level. This helps the line maintain its transmissions capability, prevent it from becoming a fire hazard risk, and it also stops the need for furthering work in order to remove and replace it. The contractor is gifted with decreased liability and dramatically increased peace of mind. Ideal for the following applications:

-Measure tension when pulling electrical cables – protect against fractures or elongation
-Measuring tension on synthetic rope when erecting delicate structures using gin poles and capstan winch

Another example of best use is during the installation of cell phone towers or similar delicate structures. You will be able to use the product to help ensure structure-to-ground ropes, connected to a gin pole and pully system, do not exceed maximum tension whilst lifting sections of the tower to the top. There can be the possibility of the rope becoming snagged and cause greater tension to be loaded upon the system. With heavy materials being lifted to great heights; this would create a major safety hazard leading to a catastrophic failure with the endangerment of lives. Avoid the unknown through accurate monitoring, especially when risks are high.

What distinguishes it apart from previous versions of this type is the developed lightweight design that allows for easy transportation and usage. It also provides up to 500 hours battery life so that you can be assured that it won't lose power before your work day has ended. The high level IP67/NEMA 6 ingress protection allows the product to be used in a variety of heavy weather conditions and dusty environments. These features, as a collective, means that it will be an invaluable and reliable tool in your work related armoury.

The five wheel design and gravity catches with top sheave pins allows for fast and simple rope attachment setup that also eliminates errors normally caused by changes in the same diameter and sample rigidity. The accuracy is also improved over three wheel alternatives.

When used with a cable/rope pulling device you can remotely monitor the tension on the line using your smart handheld device via a Bluetooth connection*. You will be able to locate yourself up to 50m/164ft away from the Cable Safe to allow you to survey job progress from a distance.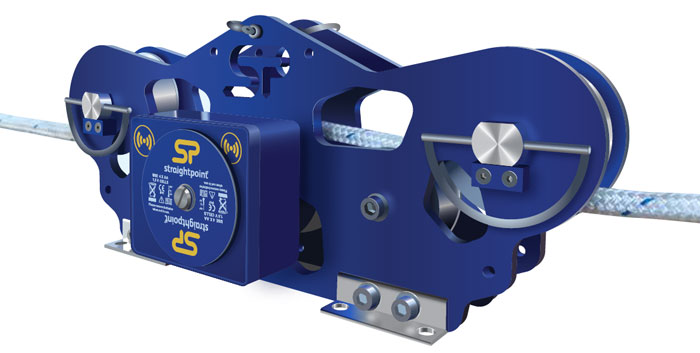 Remote monitoring & recording using FREE smart phone App via Bluetooth
HHP App offers realtime display of data (with user-selected units of Te, Kg, kN, and Lb)
HHP App also offers continuous datalogging into a user-named file
For use on line speeds up to 2000 Ft/min (600 meters/min)
For rope diameters from 0.157" up to 1.250" (4-30mm) - several capacities
IP67/NEMA 6 Protection for use in all weather conditions
Operated on 4 x AA standard Alkaline Batteries
Fully constructed from light and durable brushed Anodised Aluminium
Five Sheave (roller) design simplifies material threading and insures highest possible accuracy
Linchpins are fitted to the top sheave pins make wire rope installation quick and simple
Maintenance-free heavy duty needle bearings
Bluetooth connection to app on smart mobile device to remotely monitor tension

Available for RENT



Measuring loads in the following situations:

-Fiber optic cable pulling using turret winches
-Water gates for dams
-Offshore rescue and retrieval
- Electrical & Fiber Optic Cables
-Capstan rope/cable winding
-Broadcast & telecommunications
-Erecting towers (maintaining structural capacity)
-Service & maintenance of cell towers

| Model | Capacity | Fiber Rope Diameter | Max Material Speed |
| --- | --- | --- | --- |
| CABLESAFE-WD | 10 Ton / 22,000 Lbs / 10,000 Kg | 3/8" - 1-1/4" (9 - 30 mm) | 2000 ft/min (600 m/min) |
| CABLESAFE-WD-2T | 2 Ton / 4400 Lbs / 2000 Kg | 3/8" - 1-1/4" (9 - 30 mm) | 2000 ft/min (600 m/min) |
| CABLESAFE | 10 Ton / 22,000 Lbs / 10,000 Kg | 5/32" - 3/4" (4 - 19 mm) | 2000 ft/min (600 m/min) |
| CABLESAFE-1T | 1 Ton / 2200 Lbs / 1000 Kg | 5/32" - 3/4" (4 - 19 mm) | 2000 ft/min (600 m/min) |
| CABLESAFE-2T | 2 Ton / 4400 Lbs / 2000 Kg | 5/32" - 3/4" (4 - 19 mm) | 2000 ft/min (600 m/min) |
| CABLESAFE-5T | 5 Ton / 11,000 Lbs / 5000 Kg | 5/32" - 3/4" (4 - 19 mm) | 2000 ft/min (600 m/min) |
-Traceable Calibration Certificate
-Operator Instruction Manual
-Foam-Fitted Carrying Case
-2 Year Warranty
- HHP App (Free Download)
Accuracy
+/- 2% of Full Scale
Part Number
Refer to Ranges Table
Capacity
Refer to Ranges Table
Resolution
0.01t
20lb
Rope Diameter
Refer to Ranges Table
Weight
4.5kg
10lb
Battery Type
4 x AA Alkaline
Battery Life
500hrs
Operating Temp
-10°C to +50°C / 14°F to 122°F
Range
Bluetooth 100m / 328ft
Protection
IP67 / NEMA 6
Maximum Fiber Speed
2000 ft/min (600 m/min)
Item
Description
Price

CABLESAFE-WD

Running Line Tension Sensor, Capacity of 22,000 Lbs (10 Ton) with Bluetooth Output - for use on 9-30 mm (3/8" - 1-1/4") diameter fiber ropes - 2789399

$5,098.00

Accessories

HPP-APP

Bluetooth App for Force Monitoring and Recording. For use with Android & iOS devices

$0.00
1 Week Lead Time (Estimated)
2-3 Week Lead Time (Estimated)
Lead Time Varies, Please contact us for availability.