Precision Tension Meter for measuring tension on textiles, wires, cables, tire cords, magnetic tapes, carbon fibers etc.
8 Ranges
0 - 50g up to 0 - 4,000g
Small wrap angle (15°) for minimum interaction with the product being measured
Excellent long-term stability for highly reproducible measuring results
Interchangeable guide components
For measurement of monofilament textiles, industrial yarns, carbon fiber, copper and steel wires up to 0.5mm Ø, woven tapes, belts, magnetic tapes
3 ball-bearing aluminium rollers with V-groove, root diameter 11mm with easy-running bearings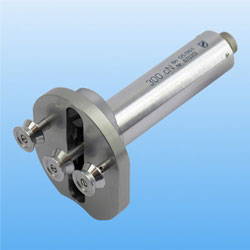 Shiftable thread guiding device FFA for 125-13
comfortable, easy threading into the running process
for smooth threading, gentle to the material
Thank You
Thank you for your quote request, we will contact you within 1-2 business days.
There was an error submiting the form. Please try again.