7 Ranges
0 - 10g up to 0 - 500g
The Series 125-12 Tension Meters are extremely compact for use on low tension applications where access space is limited. They are offered with ceramic thread guides or precision ball bearing mounted rollers.
High overload protection and optional waterproof design makes this model ideal for all laboratory & production.
Two kinds of ceramic thread guides with a gentle surface and a low coefficient of friction are supplied to each sensor for various measuring tasks: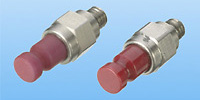 On the left:
• structurered surface (orange peel), especially for flat yarn

On the right:
• polished surface, e.g. for texturized yarn
The optional available, shiftable thread guiding device FFA offers comfortable and smooth threading into the running process.
Small angle of contact minimizes twisting interference
Easy to load thread
Ceramic thread guides provide a surface that is gentle on the threads, making for low friction and even wear at high running speeds
| Model | Range |
| --- | --- |
| 125-12-10 | 0-10g |
| 125-12-20 | 0-20g |
| 125-12-30 | 0-30g |
| 125-12-50 | 0-50g |
| 125-12-100 | 0-100g |
| 125-12-200 | 0-200g |
| 125-12-300 | 0-300g |
| 125-12-500 | 0-500g |
Measuring Principle
Capacitive Sensing
Tension Ranges
0-10g, 0-20g, 0-30g, 0-50g, 0-100g, 0-200g, 0-300g, 0-500g
Accuracy
±1.0% or better
Material Deflection
15 Degrees
Thread Guides
Ceramic Pins (Standard)
Ball-bearing mounted rollers (optional)
Dimensions
100mm x 25mm diameter
Weight
100 grams
Options
Outer thread guide shifting plate
Ball-bearing mounted rollers
Splash-proof protection
Special thread guide design
Calibration Certificate
Optional
Thank You
Thank you for your quote request, we will contact you within 1-2 business days.
There was an error submiting the form. Please try again.