The Concorde CT6 series of Hand Held Tachometers are available in a variety of models to suit most applications, with large Bright LED displays and a wide selection of excellent features, including standard optical system range up to 3ft (1M) or with a Laser system with a range up to 6ft (2m) for enhanced optical performance. These Tachometers have facilities for both Optical and Contact measurements.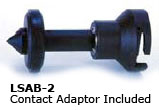 CT6/LSR/ERP is supplied with the LN1 short speed adaptor and has the facility for the end user to be able to adjust the optical sensitivity. This is useful when measuring high speeds using the LN1 short range adaptor where the target may be a mark rather that retro-reflective tape.
Includes Certificate of calibration
Last reading hold & recall memory
Long Optical Range
Range of contact adapters for rpm & linear rate
Additional Count & Times modes
External input for remote optical sensors is standard
Very wide speed range
Wide range of accessories
Measuring Range
3 to 99,999 rpm
Resolution
max - 0.001 (auto)
Optical Range
CT6: 2 - 36" (.05 - 1m)
CT6/LSR: 2 - 72" (.05 - 2m)
Count Mode Resolution
0.1 metre or 1rpm
Time accumulative
0.01 - 99999 secs
Time Interval
0.01 - 99999 (seconds/rev.)
Accuracy
±0.01% ±1 digit
On Target Indicator
Yes
Low battery Indicator
Yes
Power
4 AAA Batteries (included)
Contact Measurement mode With LSAB-2 Adaptor attached
RPM
3 - 50,000 rpm
Meters / Min
0.30 - 1999.9
Feet/Min
0.30 - 4500.0
Length
0-999.9 meters (resolution 0.1 meters)
Total Rev.
0-9999 revolutions
Item
Description
Price

CT6 Optical Tachometer with Contact Adapter - English Units

$590.00

CT6 Tachometer Complete Kit with Contact Adapter and Remote Optical Sensor

$750.00

CT6 Laser Tachometer with Contact Adapter

$650.00

CT6 Tachometer - Metric Units

$590.00

CT6 Laser Tachometer with Contact Adapter and Pulse Output, includes contact adapter

$900.00

CT6/M/K

Standard Optical-Contact Tachometer (Metric) & VLS5/J Remote Sensor

$700.00

CT6/LSR/ERP Hi-Speed Laser Tachometer with Contact Adapter

$900.00

Accessories

Reflective Tape, 1x7 Inch Strip - TAPE

$5.00

Reflective Tab Sheet, 35 1/2" x 1/2" Squares - TAB

$5.00

DES/01/D

Diesel Adaptor (5PIN DIN)

$175.00

DES/01/J

Diesel Adaptor 3.5mm Plug

$175.00

DES/01/T

Diesel Adaptor Str Lead

$175.00

LSAB-2

Linear Speed Adaptor

$89.00

LSAB/3/9109

H/D Adaptor +20cm Ribbed Wheel

$310.00

LN1

Clip on Lens Adapter for VLS Sensors - high focus

$65.00

L5V

Spare Lamps 3-Pack

$25.00

RT5

5 Meter Reflective Tape

$60.00
1 Week Lead Time (Estimated)
2-3 Week Lead Time (Estimated)
Lead Time Varies, Please contact us for availability.