CDT-2000HD-TE allows the device to measure speed and length of wires, cables and ropes up to 8 mm diameter, e.g.in elevator applications. The CDT-2000HD-TE is just as useful when setting up plants and machinery as during service jobs, monitoring manufacturing processes or in development laboratories. Example applications include measuring the rotational speeds of engines, pumps and turbines, as well as of mixers, centrifuges and conveyors; it can also measure the velocities and lengths of all kinds of threads, sheets and belts.
Measurement of wires, cables and ropes up to 8 mm
Used for elevator applications and similar applications for measure cable speed and length
Wire Speed can be measured in feet/min, meters/min or in/min (user selectable)
Total Length can be measured in feet, meters, inches.
Wrapper roller mounted beside main roller insures adequate contact to eliminate slippage
Designed and fabricated in Germany
Includes Traceable Calibration Certificate
Measuring Ranges
RPM
Non-Contact: 1.00 - 99,999 rpm
Contact: 1.00 - 19,999 rpm
Surface Speed
0.30 - 6,500 feet/min
0.10 - 1,999 meters/min
4.0 - 78,000 inches/min
Length
0.01 - 99,999 feet
0.02 - 99,999 meters
1.0 - 99,999 inches
General Specifications
Measurement Diameter
Up to 8mm
Resolution
.01 from 0 - 100
.1 from 100 - 1,000
1 from 1000 - 99,999
Accuracy
± 0.02% of reading or 1 digit
Display
5 - Digit LCD, 10mm high
Decimal Point
Automatic
Memory System
Maximum, minimum, and last reading (retained in memory for the life of the batteries)
Measurement System
Non-Contact: Visible LED light beam
Contact: Contact adapter
Engineering Units
RPM: RPM
Surface Speed: Ft/min, inch/min & meters/min
Length: Feet, inches, meters
Sensing Distance
Up to 24 inches (60 cm)
Display Update Time
0.5 seconds or one measuring
Auto Power Off
After 30 seconds of non-use (minimum, maximum and last reading retained in memory)
Battery Life
40 hours continuous use
Battery
2 AA (1.5 V) or rechargeable
Weight
6 ounces (170 grams)
Housing Material
ABS Plastic housing with removable protective rubber shell
Housing Rating
IP40
Operating Temperature
32 to 122° F (0 to 50° C)
Storage Temperature
-4 to 150° F (-20 to 70° C)
Accessories included
Contact adapter, cone tip, universal surface speed wheel, reflective tape, operating instructions and foam-fitted, hard plastic carrying case
Optional Accessories
Shaft extension, 3.15 inches (80 mm)
Warranty
5 years
Calibration Certificate
Included
The CDT-2000HD-TE includes the Tachometer, Wire, Cable, and Rope Speed Adaptor, Slide-In Tachometer Contact Adapter, 6" & .1m Surface Speed Wheels, Cone Tip, Funnel Tip, Extension Shaft, Reflective Tape, Two (2) AA Batteries (1.5 V), Calibration Certificate and Operating Instruction Manual -- all supplied in a foam-fitted, hard-plastic Carrying Case.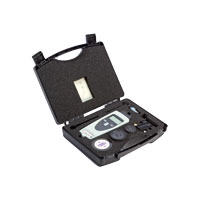 | | Item | Description | Price | |
| --- | --- | --- | --- | --- |
| | | Wire, Cable, and Rope Speed Meter / Combination Tachometer kit - A5-1250 | $595.00 | |
1 Week Lead Time (Estimated)
2-3 Week Lead Time (Estimated)
Lead Time Varies, Please contact us for availability.