REPLACED BY DT-326B
The DT-326 is a portable stroboscope utilizing super bright LED's in a robust, durable all metal design. The DT-326's unique LED array provides an accurate, stable strobe light. The innovative LED design allows for a longer flash life – 5 times longer than traditional xenon flashtubes!

The DT-326 is designed for Speed (RPM) and Frequency (Hz) measurements in motion and vibration analysis. It is ideal for predictive and preventive maintenance applications such as: motors, shafts, roto-gravure printing, extruders, blow molding, wire lettering and striping, engraving, pulse jets, water jets, fans, cams, gear teeth, belt inspections, audio/speakers, fuel injectors, vibration analysis and cutting blade timing and sharpness. With its intuitive "ONE HAND" controls, vast adjustable flash rate, superior brightness, focus control, silent operation, AC/DC power flexibility, the DT-326 LED Stroboscope provides a superior value in a compact, ergonomic package.
Wide Flash Range: 60-120,000 flashes per minute, can be applied to meet almost any HIGH-SPEED application
Phase Shift: Advance or retard flash timing for viewing gear teeth, cutting surfaces, repeats or "drifting" images
Ratio Control (Flash Pulse Duration): Adjustable Flash Pulse duration achieves sharper images for critical inspection
All Metal Construction: Durable, comfortable, hand-held, fixed or swing arm mounted
ECO Mode: Brightness control extends battery life
Input/Output Interface: Input sensor triggers or Output synchronization controls
AC/DC Operation: AC adapter for continuous use or (4xAA batteries) for maximum portability
Includes Traceable Calibration Certificate
2 Year Warranty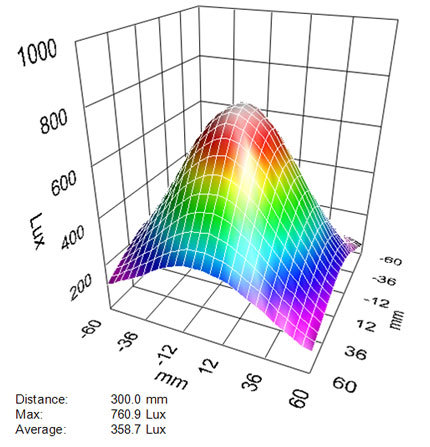 at 30 cm Distance, 6000 flashes/min (FPM)
Units of Measure
FPM (flashes per minute) or Hz (frequency)
Flash Rate Range
High Range: 60 - 120,000 FPM (1 - 2,000 Hz)
LowRange: 60 - 12,000 FPM (1 - 200 Hz)
Flash Rate Accuracy
±0.02% (at 77°F [25 °C])
Ratio (Flash Duty)
0.1 – 2.5° (/ 360°) Setting of every 0.1°
Light Source
High Brightness LEDs
Flash Mode
Normal and ECO (Power Saving Mode)
Flash Delay/Phase Shift
Time: 0 - 999 ms; Angle: 0 - 359°
Controls
Power, Multiply by 2, Divide by 2, Phase Shift±, Ratio, ECO, Mode Setting
External Trigger Input
Photocoupler input 12mA/DC12V
External Clock Output
Photocoupler Output 30mA/DC30V, Pulse width 200µs
Display
LCD with Backlight, Main Display: 6 characters, Sub-display: Flash, Units, Battery, Settings
Power Supply
4 AA Alkaline Batteries: 80 minute operation in ECO mode, 20 minute in normal operation
AC Adapter: AC 100V – 240V 50/60Hz 24 – 33VA (2.0A/DC5V)
Operating Temperature
32 - 95° F (0 - 30° C)
Dimensions
8.66" (220 mm) x 2.76" (70 mm) x 2.36" (60 mm)
Product Weight
1.1 lbs (0.55 kg)
Certification
CE
Warranty
2-Year
Flash Rate - Range(Resolution)
High Range (FPM)
60 - 30,000 FPM (1 FPM)
30,002 - 60,000 FPM (2 FPM)
60,005 - 100,000 FPM (5 FPM)
100,010 - 120,000 FPM (10 FPM)
Low Range (FPM)
60.0 - 3,000.0 FPM (0.1 FPM)
3,000.2 - 6,000.0 FPM (0.2 FPM)
6,000.5 - 12,000.0 FPM (0.5 FPM)
High Range (Hz)
0.1 - 2,000 Hz (0.1 Hz)
Low Range (Hz)
0.01 - 200 Hz (0.01 Hz)
Light Power
Normal Mode
1,300 lux: 6,000 FPM - 7.87in (20cm)
200 lux: 6,000 FPM - 19.69in (50cm)
ECO Mode
400 lux: 6,000 FPM - 7.87in (20cm)
100 lux: 6,000 FPM - 19.69in (50cm)
Item
Description
Price

$

Accessories

DT-326-BC

Battery Charger for DT-326 LED Stroboscope

$140.00
1 Week Lead Time (Estimated)
2-3 Week Lead Time (Estimated)
Lead Time Varies, Please contact us for availability.