For the technician that must perform hardness tests on various types of non-metallic materials, we offer the Multi-Scale durometer test kit.
The Multi-Scale base kit consists of a digital display with a type A, D and OO durometer barrel. A complete kit is supplied with a digital display and type A, D, B, C, DO, O, OO, OOO durometer barrels.
Changing scales is accomplished by unscrewing one barrel and replacing it with another - no supplementary calibration or adjustments are necessary.
A test block, calibrated to the selected scale is also included. The block allows the user to perform quick functional checks on the instrument.
The indicator and barrels are made in the USA, and are calibrated to the ASTM-D2240 standard for durometer hardness testers.
Digital Multi-Scale Durometer allows user to measure in a variety of scales with one guage.
Includes NIST Calibration Certificate
Need a hard copy printout of your measurement results?
Our P-190 Printer with the G03-0086 Cable will allow you to print each reading as it's shown on the display. The user simply depresses the thumb switch each time they want a value transferred to the printer. Simple yet effective!
The battery-powered P-190 Printer uses standard rolls of adding machine paper, unlike thermal printers the printout will not fade over time. It is supplied with a battery charger for operation on all power worldwide.
Order the following items as shown in the accessories section of the BUY NOW section at the bottom of this page.
P-190 Printer
G03-0086 Data Transfer Cable and Thumb Switch

We offer a complete line of durometer test stands. The stand, when used in conjunction with a Durometer, eliminates operator error sometimes associated with hand-held durometer testing. Our stands feature a load weight for the proper testing pressure as noted in ASTM D2240, and a quick-lock column for easy adjustment.
Click here for more info on Durometer Test Stands.
Measuring Range
0 - 100 units
Accuracy*
±1 durometer unit (A,B,C,D,E,O,DO)
±2 durometer units (OO,OOO)
Dimensions
2.25" x 6.125"H
Weight
6 oz.
* Note
per ASTM D 2240-05, Sect 9.3: It is accepted that durometer readings below 20 or above 90 are not considered reliable. It is suggested that readings in these ranges be omitted.
DD-DB1 - "Smart" USB Cable
The DD-DB1 "Smart" USB cable connects the durometer to a computer. The output of the SmartCable Keyboard is a standard USB 2.0 keyboard signal. Connecting the SmartCable Keyboard with its built-in keyboard wedge to a computer will allow the SmartCable to be identified as a keyboard device that can send data to any Microsoft Windows application - no software wedge required. The SmartCable Keyboard will make the gauge readings appear as if they were typed in using a standard keyboard - eliminates data collection errors. If you want to collect data into a Microsoft Excel spreadsheet, simply select the cell where you want the data to appear.
The Multi-Scale base kit consists of a digital display with a type A, D and OO durometer barrel. A complete kit is supplied with a digital display and type A, D, B, C, DO, O, OO, OOO durometer barrels. Supplied in a hard shell carrying case including instruction manual, 115V AC Adapter, cal cert and durometer test block.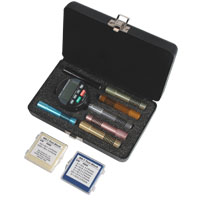 Item
Description
Price

RX-DD-MS-A-D-OO

Multi-Scale Durometer Kit, Includes Digital Display with Type A, D, OO Barrels

$2,080.00

Accessories

G11-0014

220V AC Adapter for RX-DD / DD-100 / MTG (not compatible for models sold in 2021 or later)

$105.00

RX-RFA

Rectangular Footer for Durometers with 1/2" Diameter Barrel, 41 x 19 mm

$195.00

DD-DB1

Smart USB Data Transfer Cable, Sends data to any Windows program with press of a button - 600-11-KB-USB

$345.00

G13-0056

USB Data Output Cable with "send button", 12 ft length (3.6 meters)

$195.00
1 Week Lead Time (Estimated)
2-3 Week Lead Time (Estimated)
Lead Time Varies, Please contact us for availability.