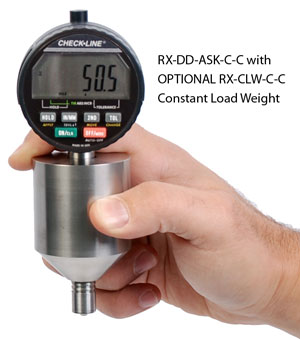 The Check-Line RX-DD-ASK-C-SS digital durometer is specifically designed to measure hardness of sneaker midsoles, EVA foam, foam rubber and foam plastic materials. It displays hardness in the range of 0.0-100.0 Asker C units on its large LCD display.
The RX-DD-ASK-C-SS durometer can measure hardness in real-time or peak mode. While in peak mode it will hold the highest measurement until reset.
The durometer is made in the USA and features a rugged stainless steel barrel. An optional load weight, part number RX-CLW-C-C can be installed onto the durometer barrel to apply a total load of 1kg per Asker C specifications.
The RX-DD-ASK-C-SS durometer can be mounted in a test stand to greatly improve its accuracy and repeatability.
Includes NIST-Traceable Calibration Certificate
Conforms to JIS K 7312 / Asker C
Holds Peak reading until reset
0.1 Unit Resolution
One year warranty
Includes reference test block
Need a hard copy printout of your measurement results?
Our P-190 Printer with the G03-0086 Cable will allow you to print each reading as it's shown on the display. The user simply depresses the thumb switch each time they want a value transferred to the printer. Simple yet effective!
The battery-powered P-190 Printer uses standard rolls of adding machine paper, unlike thermal printers the printout will not fade over time. It is supplied with a battery charger for operation on all power worldwide.
Order the following items as shown in the accessories section of the BUY NOW section at the bottom of this page.
P-190 Printer
G03-0086 Data Transfer Cable and Thumb Switch
Measruing Range
0 - 100 Asker C Units
Resolution
0.1 Units
Weight
7.15 oz.
Power Supply
(2) 3V CR-2450 Batteries
115V AC Adapter Included. 230V AC Adapter Optional
Warranty
1 year
Mounting Thread
5/16-40
Item
Description
Price

RX-DD-ASK-C-SS

Asker C Digital Durometer with Stainless Steel Barrel normally used on sneaker foam

$1,545.00

Accessories

OS-NBSP1

Custom Test Stand for RX-DD-ASK-C-SS Durometer, with an extended column, top mount weight, swivel sample plate, 7in diameter base, and large lifting knob

$1,995.00

RX-CLW-C-C

Constant Load Weight for Asker C Durometer with pencil type barrel, Tapered Design, NB Spec

$250.00

DCLW-CC

Oversized Carrying Case for Durometer with Constant Load Weight Attached

$89.00

Asker C Durometer Test Block Kit with NIST traceable certificate, 3 Color Coded Blocks

$205.00

DD-DB1

Smart USB Data Transfer Cable, Sends data to any Windows program with press of a button - 600-11-KB-USB

$345.00
1 Week Lead Time (Estimated)
2-3 Week Lead Time (Estimated)
Lead Time Varies, Please contact us for availability.