4 Models
RTM-20D-2
- 2 Ton / 20 Kn / 4,400 lb
RTM-20D-5
- 5 Ton / 50 Kn / 11,000 lb
RTM-20D-10
- 10 Ton / 100 Kn / 22,000 lb
RTM-20D-20
- 20 Ton / 200 Kn / 44,000 lb
Max Cable Diameter - 1.5" (38.1mm)
The RTM is a cable tension meter specially developed for the determination of (high) tension in cables like guy wires, support cables, architectural cables etc. The RTM can be placed directly on the cable. De device will show the tension on the display.
The RTM is very simple and handy to use. Simply hold and "clip" it to the rope to be tested and use the large hand screw to deflect the rope to a fixed angle. The resultant force will then affect the load cell and measure the tension in the wire rope. The resultant signal is then digitally processed and displayed in a graduation selected and pre programmed. The RTM 20D can display kN, klbs or in ton.
The RTM is suitable for measurements up to 44,000 Lbs (22 tons) and cable diameters up to 1.5". De measured values are directly shown on the display without use of a reference table.
Measuring principle:
The RTM is placed on the cable under a predefined angle. This angle is then used to determine the tension in the cable. Since the gauge is calibrated to the cable that is measured it will directly show the tension value. These calibrations can be saved inside the gauge and it is possible to save up to 10 different cable calibrations. Values can be displayed in N or Lbs
Safety:
The RTM determines quickly, safely, accurately and conveniently cable tension. It can withstand force two times its rated capacity without damage. The RTM features hardened steel cable guides which ensures trouble-free operation in the toughest outdoor environments.
RTM can be calibrated for up to 10 different wire ropes
The RTM will temporarily withstand 100% overload without impairing accuracy
Pressure tight, conforms to IP 67 according to IEC 529
Tempered jaws minimize wear and maintain accuracy
The RTM can display measurement in klb, kN or metric ton (please choose 2 when ordering)
10 different cable calibrations can be stored at one time
Memory/RS232 Option provides memory for 60 values and provides RS-32 Output for data transfer
Accuracy
2 - 6% of instrument capacity
Cable Diameter
0.25" - 1.5" (6.35 - 38.1mm)
Calibration
Up to 10 Calibrations can be stored
Display
LCD, 0-19999, 0.5" high
Power
9V battery
Battery Life
25 hours
Housing material
Corrosion proof anodized Aluminium
Dimensions
5.3" x 15.0" x 27.0" (135 x 380 x 685 mm) Gauge
6.7" x 15.7" x 29.9" (170 x 400 x 760 mm) in Carrying-Case
Weight
13.67 lb (29 lb in carrying-case)
Working Temp
-4 to 158° F
Protection Class
IP67 (Dust and temporary water immersion)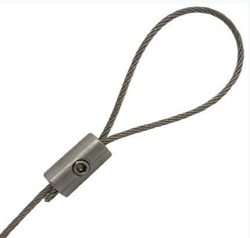 The RTM can be calibrated with a customer cable. The sample must be 6m / 18ft and have looped ends as shown here.
Item
Description
Price

Cable Tension Meter, 2 Ton / 20 Kn / 4,400 lb, with calibration for 1 wire size

$9,995.00

Cable Tension Meter, 5 Ton / 50 Kn / 11,000 lb, with calibration for 1 wire size

$10,195.00

Cable Tension Meter, 10 Ton / 100 Kn / 22,000 lb, with calibration for 1 wire size

$10,995.00

Cable Tension Meter, 20 Ton / 200 Kn / 44,000 lb, with calibration for 1 wire size

$10,695.00

Accessories

RTM-ADDCABLE

Calibration for RTM Tension Meter

$495.00
1 Week Lead Time (Estimated)
2-3 Week Lead Time (Estimated)
Lead Time Varies, Please contact us for availability.