The PTT-2000 digital torque analyzer is designed to work with a wide range of Mountz remote torque sensors. With auto sensor recognition all calibration and configuration data is saved within the sensor connector, not the indicator, allowing for true interchangeability.
The PTT-2000 digital torque analyzer is designed to makes quality documentation faster and easier. As an advanced torque controlling, monitoring and documentation solution, the torque analyzer enables operators and engineers to ensure product quality, safety and reliability promptly in a variety of manufacturing environments. The portable torque meters are designed for measuring torque, torque calibration, joint testing, auditing or force and load measurement. The failure of a three-cent fastener that isn't properly tightened can lead to catastrophic or latent failures. Using a quality torque tester makes a safer world through accuracy and precision.


System Accuracy +/- 0.5% of reading from 20% to 100% of full scale.
System Accuracy +/- 1% of reading from 10% to 20% of full scale.
Operates with Torque & Force sensors.
Provides "EZ-Plug & Play" with Transducers. Features "ARCII" technology, an instant auto-recognition system of the transducer connected to the PTT.
Seven units of torque measurements: (ozf.in, lbf.in, lbf.ft, cN.m, N.m, kgf.m, kgf.cm).
Recommended for all hand screwdrivers, wrenches or power tools.
Selection of six operating modes: (Track, Peak, First Peak, Audit, Torque + Angle, and Tool Test).
Two units of force measurements: (lbf and kN)
Real time graph of torque vs. time using associated PC Windows software.
USB interface to download readings to PC.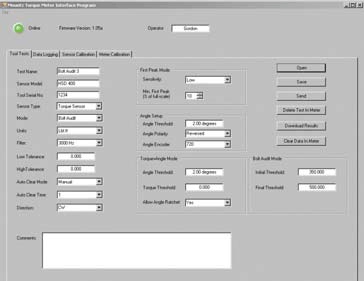 The PTT allows you to set up and create tool tests and save the readings so you can export the data to a PC for documentation. It's the ideal solution for organizing and storing test data for ISO and SPC documentation.
The ability to graph a dynamic rundown allows joint analysis. Great resource to evaluate create or confirm a torque specification or toll being used in production.
The "Statics Calculator" allows operators to perform basic SPC, CP and CPK calculations.
Universal Charger (100 - 240 VAC)
USB Cable
Software - Torque Meter Interface Program
Software - Torque Meter Bootloader
Software - Statics Calculator
Protective Cover
Item
Description
Price

PTT-2000 Torque Analyzer 072999

$2,755.00

Accessories

770319

USB Cable

$27.50

072506

Battery Pack

$155.00

072000

Cable RTSX-A & Angle Sensor to PTT & LTT

$395.00

072001

Cable PTT to BLRTSX

$395.00

072002

Cable PTT to BMX

$305.00

072004

Cable PTT to SDX

$295.00

072005

Cable RTSX to PTT and LTT

$295.00
1 Week Lead Time (Estimated)
2-3 Week Lead Time (Estimated)
Lead Time Varies, Please contact us for availability.