As of January 2012 the LS-6000 strobe has been discontinued. It is replaced by the LS-9-12000, click for more info
The new CHECK-LINE Series LS Linear Stroboscope is offered in a 10 and 15 inch width. They are designed to provide an extremely bright, uniform light source that is typically required to perform visual inspection of narrow and wide web-type products such as; labels, printed material, textile fabrics, metals, non-wovens and more. Two or more units can be combined for continuous inspection of wider webs.
Flash frequency can be automatically synchronized to varying web speeds using an external sensor or user-controlled using a precision adjustment knob located on the rear control panel.

Flash intensity (brightness) can also be manually adjusted via an adjustment knob or controlled externally using a 0-6 Vdc input.
Super-bright Xenon Tube and highly-polished hammertone reflector combines to generate industry-leading light intensity and uniformity
Models are offered in 10 inch (250 mm) and 15 inch (380 mm) widths
Internal and External control of flash rate and flash intensity (brightness)
Steel enclosure is specifically-designed to efficiently dissipate heat eliminating the need for bulky heat sinks
2 or more LS models can be connected to each other for wider web coverage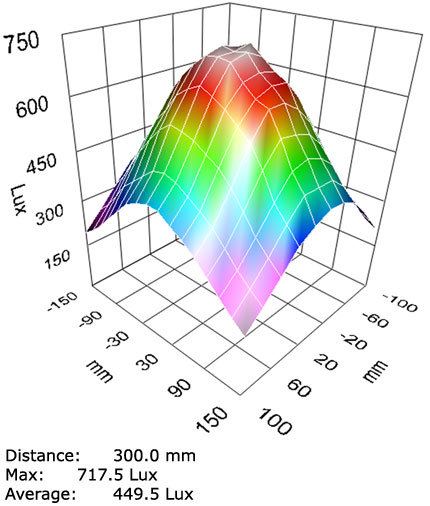 at 30 cm Distance, 6000 flashes/min (FPM)
Energy Output
.72 joules
Flash Duration
10us
Flash Range
Internal Control:400-6000 FPM
External Control: unlimited
Flash Frequency Adjustment
INTERNAL, using 10-turn potentiometer
EXTERNAL, using external trigger sensor
Flash Brightness Level
INTERNAL, using potentiometer (50-100%)
EXTERNAL, 10:1 using voltage input (1.5-6 Vdc)
Illumination
180 ft-c (1960 Lux), measured at 2400 fpm
Coverage, Maximum Web Width
LS-10-6000: 24 inches (600 mm)
LS-15-6000: 36 inches (900 mm)
Trigger Supply
Regulated 12VDC @100mA
External Trigger Input Signal
+5V at 20mA NPN
Frequency Adjustment
Variable Control
External Sensor Types
magnetic pickups, contact closures or open collectors (NPN)
Display
None
Operating Temp Range
-10 to 110° F (-23 to 43° C)
Operating Humidity Range
0 to 90% noncondensing
Body Material
Fabricated Metal Enclosure
Weight
LS-10-6000: 4.2 lbs (1.9 Kg)
LS-15-6000: 5.6 lbs (2.6 Kg)
Dimensions
LS-10-6000: 10"L x 5.4"W x 6.4"H
(without mounting bracket)
LS-15-6000: 15"L x 5.4"W x 6.4"H
(without mounting bracket)
Power Requirement
115/230 VAC 50/60Hz (Specify prior to order)
Power Consumption
0.5A Maximum
Flash Tube Life
100 million flashes (While maintaining 70% of initial intensity)
Accessories Available
Label Sensor, Extra Tube, Cables
Customization Options
Electronics, Lamp, UV, Kelvin Correction, Color Correction, etc.
Warranty
1 year
Item
Description
Price

LS-10-6000

Discontinued Model replaced by LS-9-12000

$0.00

LS-15-6000

Discontinued Model replaced by LS-9-12000

$0.00

LS-10-6000-2

Discontinued Model replaced by LS-9-12000

$0.00

LS-15-6000-2

Discontinued Model replaced by LS-9-12000

$0.00

Accessories

LS-10-TBE

LS-10-6000 Flash Tube

$110.00

LS-15-TBE

LS-15-6000 Flash Tube

$145.00

LS-CORD-110

Power Cord 110 VAC

$10.00

LS-CORD-220

Power Cord 220 VAC

$10.00

LS-CABLE-DAISY

Daisy Chain Cable

$30.00

LS-DIN-MALE

Male Din Connector Attachment

$8.00

Label Sensor for Triggering On Label Gaps

$125.00

LS-REGSENSOR Registration Mark Sensor

$149.00
1 Week Lead Time (Estimated)
2-3 Week Lead Time (Estimated)
Lead Time Varies, Please contact us for availability.