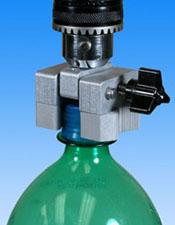 This grip effectively secures bottle caps during torque testing. The G1053 is designed with a hex tail to fit into the chucks of our torque sensors. Reversible serrated jaws accommodate caps with diameters of 0.65 - 1.55 in [16.5 - 39 mm] while a knob quickly engages and disengages samples.
This grip can be used either manually with an STJ torque sensor or MGT torque gauge (see application photo at left), or in test stand controlled applications, using our Series TST torque test stands. If used with a test stand, this grip complements our G1023 bottle grip.
An optional adapter is available to mount the G1053 grip to the base of a test stand to enable force testing.
Item
Description
Price

Cap grip, range: 0.65 - 1.55in / 16.5 - 39mm

$375.00

Accessories

G1055

G1055 Adapter, G1053 to stand

$55.00

Axial compensator

$220.00
1 Week Lead Time (Estimated)
2-3 Week Lead Time (Estimated)
Lead Time Varies, Please contact us for availability.