The DMS485 is a battery-powered hand-held digital tension indicator designed for use with all strain-gauge based hand-held tension sensors including model CBM (CableBull) and others. The DMS485 features a 3-1/2 digit LCD display along with convenient slide switches for easy operation. Features include Auto-Zero, Hold and Averaging Mode providing the flexibility to meet a wide variert of tension measuring tasks.

The combination of portability and functionality makes the Digitens DMS485 and excellent choice for use with strain-gauge based hand-held tension sensors.
Convenient one-hand operation
Tension values can scaled to a wide variety of engineering units
Automatic zero setting and Hold function with slide-switch
Maximum value display with high speed peak value capture for acquisition of short interval tension peaks
Battery status indicator
Averaging Mode (0.5 sec interval)
High-contrast, easy-to-read 13 mm LCD display
Battery Life of at least 12 hours with standard alkaline 9V / 400mAh disposable battery
Model with rechargeable batteries also available
For use with all strain-gauge based tension sensor (Impedance of 350 Ohms or higher)
Optional Analog Output for recording/datalogging purposes (10mV / display digit)
Operating Temperature Range of -4°C up to 158°F (-20°C up to 70°C)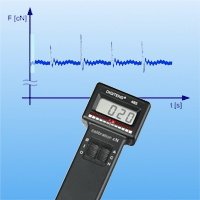 The measuring amplifier DMS485 is provided with a digital display. The analog signals of the connected sensor are digitized for that purpose. For analog / digital conversion an integrating measuring method averaging over 0.5 seconds is used. The dynamic parts of the tension signal - its amplitude and frequency of occurrence - are not displayed because of the generation of mean value.
In many processes, e.g.
spinning
weaving
texturizing etc.
especially the dynamic parts, e.g. the tension peaks and their frequency of occurrence, are important information.
The additional display DynGraph - based on LED-technology - works without delay and shows correct amplitudes up to high frequencies. It offers - additional to the quasi static mean value of the digital display - the information on the dynamic.
examplary graphic:
sensor 100cN, pulse frequency 150Hz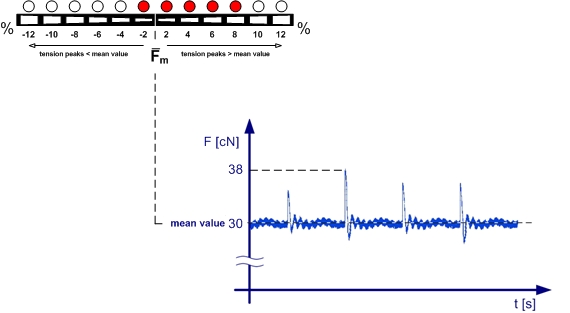 The DMS485 with additional display DynGraph quickly offers precise information about the tension in your process without any complex accessories.